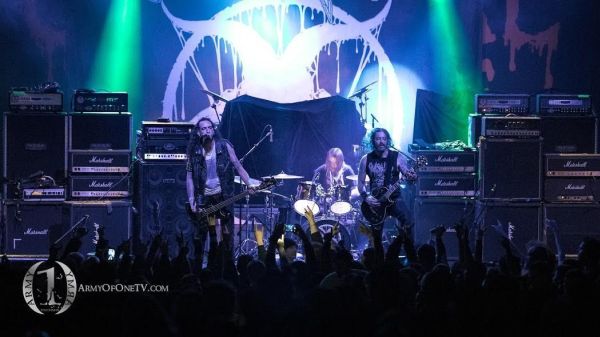 28 February 2019
Necrot – live – Photo Credit: Ignacio Orellana
Luca Indrio, vocalist and bassist for Oakland death metal trio Necrot, arrived in Boise on Wednesday travel-weary on an off-date from Decibel Magazine's Tour across the U.S. His band had hit some nasty turbulence outside Eugene, Oregon, and — taking the stage in front of a sizable Neurolux audience — was in a cantankerous mood.
Perfect fuel for a fiery metal show that also featured Blood Incantation.
"You can stand there — or party with us and enjoy the show," Indrio barked at the crowd, before plowing into "The Blade," the appetizer to Necrot's seven-song set.
Featuring heavily dissonant riffs laden with death-metal vocals, Indrio and his partners — guitarist Sonny Reinhardt and drummer Chad Gailey — gave a blitzkrieg of a performance that alternately dizzied and tizzied the club crowd.
Time-signature changes ran throughout the performance, which also included "Rather Be Dead," "Shadows and Light," "Empty Hands," "Into the Labyrinth," "Breathing Machine" and "The Abyss." The band continued underscoring its acclaimed June 2017 release Blood Offerings (Tankcrimes), on which all but two of those songs appeared.
A mosh pit obediently erupted at Indrio's command at the start of "Shadows and Light." A winding song with melodies buried deep within the thrash, it called to mind Erik Rutan's Hate Eternal project.
Necrot's bare-bones set — Indrio didn't say much else to the crowd, aside from an occasional song introduction — kept the focus on the quality of their righteous riffage and blast beats. Aside from some dark fluorescent lighting, the attention was squarely on the band and its first-ever performance in Boise after forming in 2011.
Indrio could be the thinnest-armed metal musician to wear spiked wraps and his biceps, but there was no doubt that Necrot is an intimidating death-metal force with which to be reckoned.