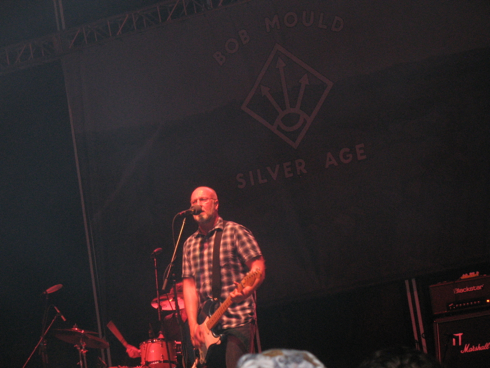 13 September 2012
Originally scheduled for Manhattan's Webster Hall, this show was converted to a free outdoor gig at the spacious, cement-floored Williamsburg Park, near the Hudson River waterfront. (Luckily, we were spared the tornado that wiped out the next day's Riot Fest at the same venue!) Like The Wedding Present on their tour this Spring, ex-Hüsker Dü/Sugar frontman Mould decided to play one of his older albums from start to finish, despite just releasing a brand new album. In this case, Mould trotted out his 1992-95 trio Sugar's pivotal '92 debut LP Copper Blue – his most successful record with 300,000 in sales, it was reissued this year in deluxe format for its 20th anniversary – while playing some tunes from his smoking hot new album Silver Age. Though I've seen Mould a dozen times, I never saw Sugar play live, so I was eagerly anticipating this show (I first saw Mould at a solo show with Mark Eitzel at SF's Fillmore in Nov. 1996, followed by two full-band shows at Columbus, OH's Newport Music Hall and Detroit's St. Andrews Hall in Sept. 1998. The latter gigs were part of what was billed as his last-ever "rock" tour – ha!).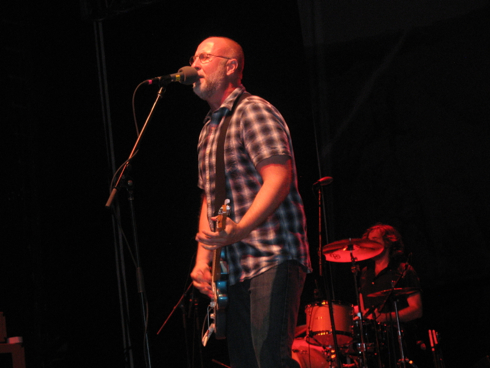 Since both of Mould's bandmates in Sugar, bassist David Barbe and drummer Malcolm Travis, work at universities and were thus unavailable for a reunion, Mould was backed at this gig by his equally formidable current band: ex-Verbow leader and bassist Jason Narducy and Superchunk drummer Jon Wurster. But as evidenced by this lineup's Sugar-like assault on Mould's new LP, and a searing David Letterman performance of its first single, "The Descent," this was no downgrade. Beginning with "The Act We Act," the band tore through Copper Blue's ten songs, gaining momentum as the show progressed. Mould was in top form; his anguished, bitter cries on "The Slim" gave way to a more joyous, optimistic delivery on "If I Can't Change Your Mind" (which sounded heavier played on electric guitar, instead of the LP's acoustic), before launching into a pulverizing rendition of "Fortune Teller." He told us that most of the album was written nearby at his old residence on Richardson St., and he even thanked the crowd for "cleaning up the neighborhood" since he left! In that respect, this show felt like a homecoming for him.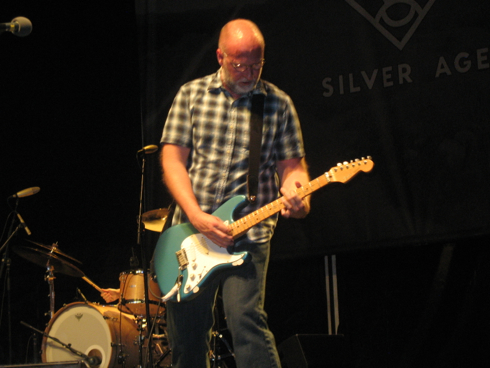 After Copper Blue, the band ripped through a few of Silver Age's choice tunes with similar authority, including the opening "Star Machine" and the aforementioned "The Descent." Rather than continuing to focus on the new LP, or on Mould's post-Sugar solo material, the band got even more nostalgic, closing the set (and two encores) with seven Hüsker Dü songs: "Hardly Getting Over It," "Could You Be the One?," "I Apologize," "Chartered Trips," "Something I Learned Today" (with The Hold Steady's Craig Finn joining on vocals), "In a Free Land," and "Makes No Sense at All." In retrospect, this wasn't a total surprise, as the same lineup also closed its Oct. 2009 Irving Plaza show with most of the same Hüsker tunes. But Mould seemed so rejuvenated, and his band so on fire, that this was more dynamic and passionate than any prior Mould full-band show I'd seen.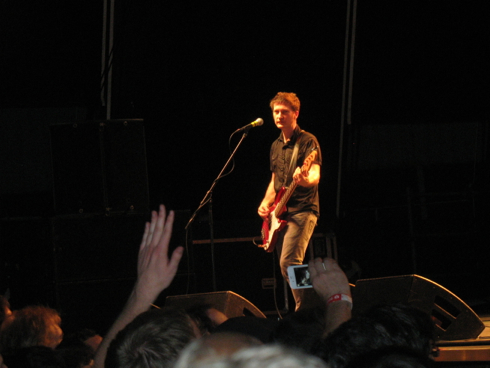 Upcoming Bob Mould dates:
9/13 Metro – Chicago, IL
9/14 Metro – Chicago, IL
9/15 First Ave – Minneapolis, MN
9/18 Showbox – Seattle, WA
9/19 Wonder Ballroom – Portland, OR
9/21 The Fillmore – San Francisco, CA
9/23 DeLuna Fest – Pensacola Beach, FL
10/30 El Rey Theatre – Los Angeles, CA
11/2 Fun Fun Fun Fest – Austin, TX
comments powered by