6 May 2014
A conflicting concert caused me to miss this East London quartet's last Brooklyn gig in April 2013, so I was glad to have this second chance to see them 11 months later, at this spiffy new South Williamsburg venue/restaurant. Reviews of their 2012 EP collection Extended Plays often compared the band to Swervedriver, and their live show also channels those Oxford, UK greats. Not only does singer Nathan Hewitt's coarse, cool vocals bring to mind Adam Franklin, but the band also employs a similar no nonsense/no banter presentation, blasting through their ten-song set with workmanlike precision. Though I was unfamiliar with their just-released self-titled debut LP prior to the show, that was a trifling concern: the five new album songs they opened with made an immediate impact.
James Wignall & Marc Raue

Nathan Hewitt & Dean Reid

On the hard-charging "Geographic" and the equally pummeling "Kenworth," dueling axemen Hewitt and James Wignall generated a thick wall of mountainous, surging guitars with swift-footed effects pedal stomping and quick-fingered whammy bar wrangling, while bassist Dean Reid and drummer Marc Raue anchored the driving, pounding rhythms. Dreamy, shoegazey numbers "Fall" and "Mission Creep" provided a relaxed respite before the band launched into their roaring older tunes, like the high octane, Swervedriver-esque "Coared" and the shorter, Hüsker Dü-like "Flake." Explosive single "The Swan" (the only song appearing on both releases) closed their set in fiery fashion, leaving us wanting more. We won't have to wait long: they're playing again at Manhattan's Mercury Lounge on June 12. Count me in!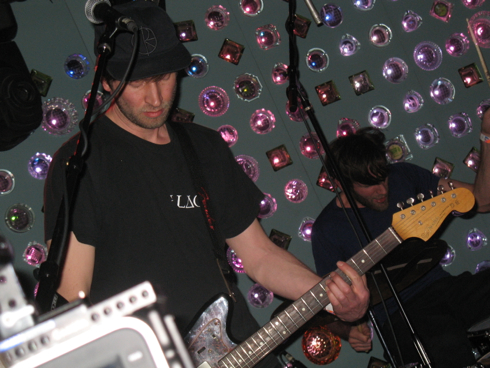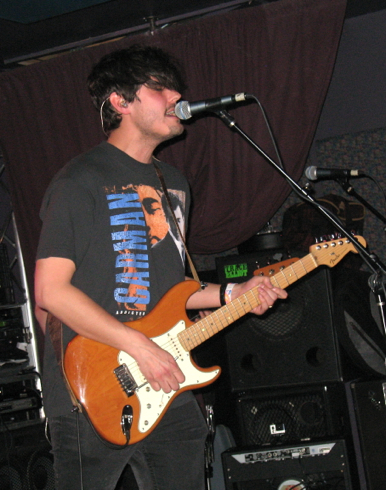 Virginia trio Eternal Summers opened with an agreeable dose of their driving, Lush-evoking alt-rock, which included a copious selection from their newly released LP The Drop Beneath. Saccharine-voiced Nicole Yun and her male rhythm section were even joined on two songs by the album's producer (and Nada Surf/Bambi Kino/solo guitarist) Doug Gillard, further cementing his reputation as one of the hardest working men in NYC indie rock.
comments powered by