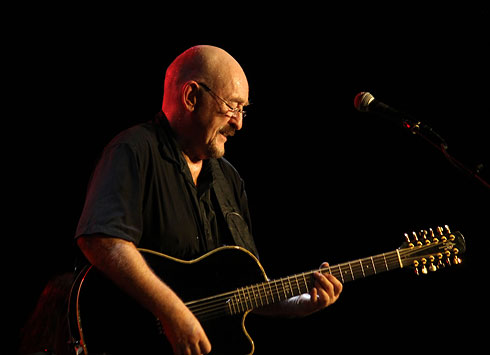 12 March 2014
The night before Dave Mason's show in Greenville, SC, the southeast US received its first major snowfall in several years. On the drive to the show, I looked at the hills and roadsides that are awash in white. Change the set-up of the surroundings, and one views everything a little different. Such was also the case with Mason's show.
The first half of Mason's show was devoted to his days in Traffic. The joy of this set was hearing Mason play songs that he usually doesn't play, such as "You Can All Join In". After closing the first set with "Dear Mr. Fantasy", Mason took a short break, and soon returned with a clear focus on his solo work. "We Just Disagree" opened the second set, noting to all that this was now a Dave Mason show. The rest of the set showed Mason in fine form, with some new songs among the highlights. My own favorite of these new songs was "How Do I Get To Heaven?", a song that Mason's former Traffic bandmate Jim Capaldi had started before his passing in 2005, and Mason had finished.
An excellent show, and the future looks promising, if the new material is any indication. If I have any quibble with the show, it's that Mason didn't go deep enough into his own contributions with Traffic. Much of his Traffic set was songs that Mason played on, but did not co-write or sing on. Meanwhile, the band's first three singles, "Paper Sun", "Hole In My Shoe" (which Mason wrote and sang), and "Here We Go Round The Mulberry Bush" (which Mason co-wrote and sang on) were left to the sidelines. I'm aware that American audiences don't know the Traffic catalog as well as "Feelin' Alright", but they are an important part of Traffic's sound and history. And the fans of those songs are Dave Mason fans, as well.
comments powered by