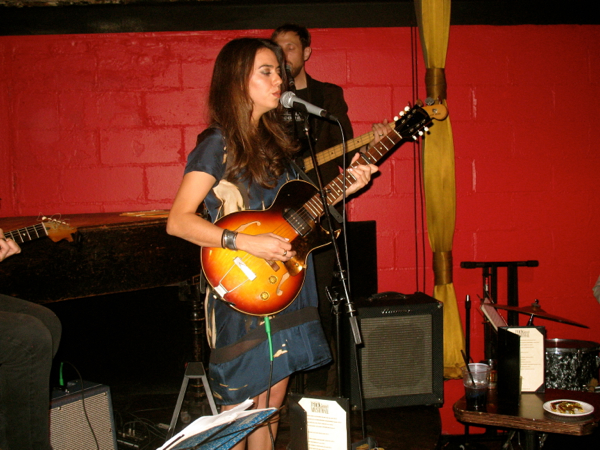 22 November 2015
Photos by Mark Suppanz
Chicago-born and raised, now L.A.-based Rose has been plenty busy since her last NYC appearances in 2011. In addition to prepping a follow-up full-length (entitled Here the Blue River, due in 2016) to her 2010 debut These Open Roads, she's also become a full-fledged filmmaker, either writing, directing, producing, or acting in a series of shorts, documentaries, and features – for example, Rose wrote and directed the 16-minute Baby Crazy, the first in what she is billing as her "True Love Trilogy," while she co-wrote, starred in, and composed the music for the 15-minute No Love Song, which also featured Rosanna Arquette. Heck, she's even got her own IMDb page!
As when I saw Rose four years ago, at Park Slope, Brooklyn's Union Hall and Manhattan's fabled Bitter End, she assembled a gifted group of local backing musicians, who provided soft and sympathetic shading to her country-flecked folk tunes. The bountiful 13-song set included a bevy of beauties from the debut, like the hopeful "Brand New Start," jaunty "The Leaving Song," and wistful "I Close My Eyes to See," along with a smattering of non-LP singles like the dreamy "All I Know" and delicate "Someday."
Those familiar with Rose's records know she likes peppering them with covers, and tonight she treated us to three: ex-Travis keyboardist and Glasgow native Geoff Martyn's 2003 hushed, haunting "Something Good," Minneapolis folkie Mason Jennings' 2000 stomping, chaingang-evoking "Duluth" – a place Rose admitted she "hasn't been to yet" – and Loudon Wainwright III's jangly, jubilant "The Swimming Song" (from his 1973 fourth LP Attempted Mustache). Can we put in a request for her 2012 So Easy EP's equally gorgeous readings of Françoise Hardy's 1966 "Only Friends" or Glen Campbell's 1968 "Wichita Lineman" for the next show?
Finally, she partitioned a portion of the set to preview four new songs from the aforementioned upcoming album – "Moon and Waves," "Songbird" (about co-dependent love, she said), "Margo," and "Grass Stains." Not surprisingly, all slotted in splendidly with her sweetly-sung, serenely-strummed older stuff, even if one detected a darker, more poignant and pensive undercurrent running through them. With honking horns, squealing sirens, and rowdy revelers creating a headache-inducing clamor just outside the venue on busy Allen Street, the affable, angelic-voiced Rose turned cozy Rockwood Music Hall into a comforting, cathartic refuge. ✪
comments powered by