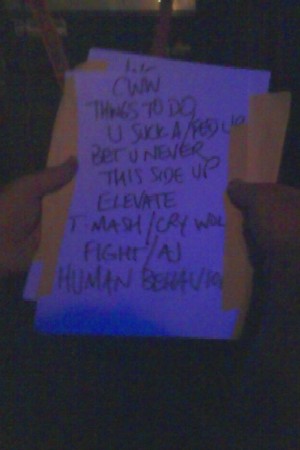 26 December 2012
I should note that this was my first time seeing '80s DC legends Scream. Though I grew up listening to just about every '80s Dischord band, for some reason I didn't hear Scream's catalog until a few years ago. Despite this, I've grown quite fond of their material (especially their 1st 2 Lps) and after seeing this show, I love them even more.
With a setlist consisting mostly of stuff from the 1st 2, best Lps as well as a few new songs ("Stopwatch" and "Elevate") from last year's Complete Control Sessions 10", they were on fire. Pete Stahl's vocals could've been turned up a notch higher in some songs, but otherwise the sound was terrific, too. Pete's brother Franz Stahl has such a killer guitar tone/sound and he and Pete both jump around like they're still in their 20s. I never realized this because I'd never seen them play before, but Skeeter Thompson plays bass almost like a lead instrument, kind of a hybrid of post-punk/reggae players with the loudness and ferocity of Lemmy. He seemed really happy to be there and playing (they all did really) and was the most talkative. Drummer Kent Stax is the calm one of the bunch, but he plays like a machine. Wow. The musicianship is just off the charts and I love the 3-4 part harmonies in some of the songs as well. This show made me think that they broke a lot of rules in the early '80s for sure. Other than Pete's vocals not being turned up enough, my only other (very minor) complaint is that they didn't play "Still Screaming". Otherwise, they were amazing.
Local hardcore band Laffing Life opened the show appropriately, playing a style of hardcore that seemed to hearken back to Scream's early to mid '80s heyday.
comments powered by