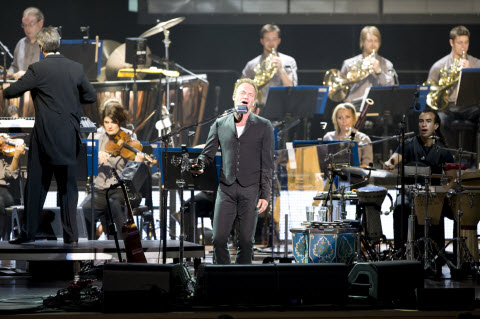 22 July 2010
Though he made his name as a brash rocker with the Police, Sting has spent decades in accelerating degrees of atonement. Since his 1985 solo debut Dream of the Blue Turtles, Sting's music has become increasingly worldly, mature and (shudder) respectable. One might think a collection of 16th century compositions accompanied by lute would mark the apex of that trajectory. Like the renegade act of following 2006's relatively successful Elizabethan album "Songs from the Labyrinth" by reuniting the Police for a victory lap 23 years in the making, Sting had another twist up his sleeve.
Taking the Ravinia stage with the 45-piece Royal Philharmonic Concert Orchestra, Sting was in fine, clear voice during "If I Ever Lose My Faith in You." "This entire orchestral adventure I'm on now began here in Chicago ," enthused Sting, referring to last year's collaboration with the Chicago Symphony Orchestra. Surrounded at the front of the stage by a core band featuring soprano Jo Lawry and former Herbie Hancock bassist Ira Coleman, Sting pulled various members of the Royal Phil forward for solo spotlights including Charys Green's bubbling clarinet during "Englishman in New York ." Of the assembled cast, only guitarist and longtime sideman Dominic Miller looked the part of a scruffy rocker.
As comfortably dressed as songs like "Tomorrow We'll See" and even "Roxanne" seemed to be, the true pleasure for Sting's pop fans wasn't necessarily hearing popular songs about prostitutes swathed in sweeping orchestral splendor. Rather, it was the opportunity to hear Sting tell so many stories when introducing them. Before playing the murder ballad "I Hung My Head," he described his childhood fascination with TV westerns and imagined "Sting Cartwright" as a member of the beloved Bonanza family. He also declared his lack of authenticity as an Englishman when writing the occasional country tune, but the great vindication he felt when Johnny Cash recorded the song.
"Russians," Sting said, had its origins in the early 80s during visits with a friend from Columbia University who had developed a way to steal signal from a Soviet television satellite. Due to the difference in time zones, the pair's late-night sessions would be spent observing Russian daytime fare including lovingly crafted children's programming. "That was the basis for détente," he said. "They love their children as much as we do." Chillingly, he added, "Our current ideological enemies don't seem to have the same ethic." As the song progressed, Miller's growling power chords became consumed amid the full dramatic effect of the Royal Philharmonic's steely-jawed pomp and thundering tympani.
Given the pathos involved in much of Sting's solo material, the Symphonicity concept was largely successful. Only an attempted funk break during "Whenever I Say Your Name" felt stilted, and only when the rhythm section got truly rowdy during the Police's "Next to You" did Sting risk comparison to ELO. The orchestra proved particularly effective in broadcasting the emotional heft of melodramatic pieces like "Why Should I Cry for You," a lament for Sting's late father. The curious by-product was that the bigger the sound became, the more conductor Steven Mercurio's outsized gestures of direction became a captivating form of interpretive dance.
Sting with the Royal Philharmonic Concert Orchestra
Ravinia Pavilion
Saturday, July 17, 2010
Photo credit: Russell Jenkins/Ravinia Festival
comments powered by