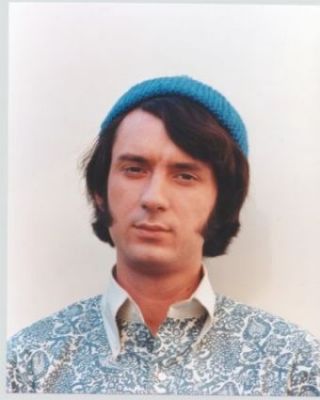 25 June 2006
There's a funny anti-Darwinian rockabilly song by Bay Area band THE KNIGHTS OF THE NEW CRUSADE (whose new album was recently released on JELLO BIAFRA's Alternative Tentacles Records), called "There Ain't No Monkeys in My Family Tree." However true that may be, there certainly are Monkees in many young musician's family tree (as they've been a guilty pleasure of many a post-punk hipster ever since the SEX PISTOLS covered "(I'm Not Your) Stepping Stone").
Sure, the backlash to which this made-for-TV band has been subjected, almost from inception, has been well documented, but times have clearly changed enough, in this era of American Idol, it doesn't seem so odd that they didn't write the vast majority of their songs or, for the most part, even play their purported instruments on recordings. After all, quite accomplished musicians were enlisted to play the music (GLEN CAMPBELL for instance) and, at least, in contrast to MILLI VANILLI or ASHLEE SIMPSON, THE MONKEES sang their own songs!
Musicially, they seem to fit nicely near the center of an eclectic indie-hipster retro ethos that embraces both Motown and LED ZEPPELIN, and though their form of melodic guitar-based pop-rock has often been called a tamer co-optation of Beatlemania (1964-era BEATLES), folk-rock (1965), and garage rock (which was one of the most commercially viable genres in 1966), many of The Monkees' songs have aged better than the AOR hippie bands that were at the time considered more challenging. It almost seems perverse, but the same impulse that has led rock critics to champion more obscure albums and bands of this era (from LOVE to THE BEAU BRUMMELS) has also ensured that MICKEY DOLENZ and DAVEY JONES will continue to make more money than their contribution to music ultimately warrants.
History has also been kind to them because they tried to reinvent themselves as a more 'serious' band, with their movie Head (choreographed by TONI BASIL) or even earlier with their album Headquarters, on which they tried to show they could play their own instruments as well as any session musician (a feat one would never imagine THE TEMPTATIONS trying). Headquarters has recently been released as a box-set and showcases the band at work in the studio (an indulgence that went over better with college DJs than with the record-buying public); it's an interesting document, but ultimately not as listenable as its follow-up, Pisces, Aquarius, Capricorn and Jones, Ltd., or even their first two albums.
It's fairly well-known that PETER TORK (despite the fact that he was the worst singer of the four; hence his RINGO STARR persona) was a talented multi-instrumentalist, and that he was offered the gig after STEPHEN STILLS was allegedly rejected due to his bad teeth. Furthermore, Tork threw hipster parties for the likes of countercultural heroes like JANIS JOPLIN and JIMI HENDRIX [Hendrix briefly toured as an opening act for The Monkees in July of 1967; he was roundly booed by audiences composed largely of teenagers and their parents and departed from the tour after a handful of shows. -ed.]. It's probably due to these factors, and the fact that he was the first to leave the band, that Tork is often seen by many rock historians as having more integrity than the others, but to me there's no contest: my favorite Monkee, by far, is MICHAEL NESMITH. Not only could Nesmith sing and write great songs, but he also went on to create a substantial body of solo work, in addition to underwriting such movie projects as Tapeheads and Repo Man.
A few years back, I was at a friend's house and she dug out a DVD Box set of every Monkees TV show. While watching them, I became fascinated by following Mike's body language, as he seemed clearly so much smarter than the other Monkees. Sure, he played it for the cameras and stayed in character, but he also made it clear to anyone who cared to notice, often by facial expressions alone, how he knew that reality was elsewhere. One episode has The Monkees faking auditions for a talent show (I forget why the thin plot necessitated this), and out comes Mike, wearing a harmonica BOB DYLAN-style, and hilariously butchering his own song "Different Drum" (shortly before it became a hit for LINDA RONSTADT and THE STONE PONYS), a song that he wrote before joining The Monkees, but that never saw released by them (perhaps because the higher-ups at Screen Gems told Nesmith it didn't fit the image(?)). The various levels of irony at work here are, to me, the essence of punk, but probably would go unnoticed unless you're really looking for it.
Who's playing who here? Knowing what Nesmith achieved outside of The Monkees, it's probably not too far off the mark to envision him, with that knowing wink, trying to sneak his songs into the 'manufactured image' he had temporarily allowed himself to be a part of. While some could claim that we probably never would have heard of, much less care, about Nesmith, had it not been for the Monkees, it's equally plausible that his success with The Monkees has actually prevented a greater appreciation for his solo work.
Even if we just take the songs he wrote which appeared on Monkees albums (and singles) from 1966-1968, one could compile an amazing 'lost' Nesmith solo debut album that would be at least as good as any album of, say, GEORGE HARRISON songs from the same time period. Couple that with the Monkees songs he didn't write (but sang, and perhaps sought out), including "What Am I Doing Hangin' Round," it gets even better. Even songs as "Sweet Young Thing" and "Papa Gene's Blues" on the Monkees' 1966 eponymous debut reveal a confident young country-rocker over a year before the release of THE BYRDS' much-touted Sweetheart of The Rodeo or Dylan's Nashville Skyline. This was one aspect of even the manufactured Monkees' image that distinguished them from Beatlemania (though even Rubber Soul had its country-rock originals such as "Run For Your Life" and "I'm Looking Through You") or folk-rock, and aligned Mike more with fellow Texan DOUG SAHM of THE SIR DOUGLAS QUINTET.
Though the cultural split between rock/pop and country became wider as the decade wound to a close, in 1966, it somehow all fit in with the NEIL DIAMOND and TOMMY BOYCE/BOBBY HART garage gospel, and the poor man's psychedelia, to represent young America without seeming, well, too redneck or hillbilly. Yet none of this quite prepared me for the shock in hearing Nesmith's post-Monkees work.
[Part II to follow]
comments powered by