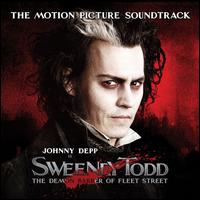 8 January 2008
It's only January, but already we've got our first example of major label greed running out of control.
Nonesuch, a division of WEA, has issued the soundtrack to TIM BURTON's film of Sweeney Todd, The Demon Barber of Fleet Street, starring JOHNNY DEPP in an adaptation of STEPHEN SONDHEIM's musical of the same name. I was excited about this, having been a fan of Sweeney Todd since seeing the PBS broadcast of the 1980 tour production starring ANGELA LANSBURY, who had also starred in the original 1979 Broadway production. Like Leonard Bernstein before him (with whom he collaborated on West Side Story), Sondheim raises the artistic level of Broadway theater, a pop genre, to that of high art.
Then the promos arrived in the mail: A deluxe version and a highlights disc. But the thickness of the deluxe version was not because of multiple discs, but rather an 80-page booklet (of which 30 pages are pictures, mostly from the film). That version lists for $23.98. The highlights disc lists for $17.98 and omits three tracks, one of which is the 10-minute finale!
Now, highlights discs have a long history in opera, and to a lesser extent in musical theater, but usually that's a matter of boiling a multi-disc set down to one disc. Since the soundtrack to the film was already cut to half the numbers of Sondheim's original 1979 production and thus already fit on a single CD, what is the justification of the highlights disc? Well, this seems to be a case of marketing driving programming, of pushing people to spend $6 more for the deluxe edition.
Certainly some people will spend extra for deluxe packaging – last year's deluxe edition of the Arcade Fire's Neon Bible was just one example – but WEA wants to drive sales of the expensive alternative a lot harder by making the choice musical as well. As I interpret it, that's just pique: If you won't buy the expensive disc with the fancy booklet, then we shall make you suffer by depriving you of the ending. And I should emphasize that, by any standard, the ending IS a highlight.
This article is not just me feeling like shaming WEA. (After all, I got both versions for free.) This is a real quandary for me at Sound Fix. Do I order both versions? From an artistic point of view, the full version is clearly preferable, but will our customers spend $28.16 (including tax) for a single CD? Will they feel cheated by a highlights CD – selling at full price – that omits the single most crucial plot twist in the whole gruesome story, the one that transforms this work from dark comedy to tragedy?
And just to twist the knife a little harder, on iTunes (where the full version sells for $16.99 and includes a digital booklet) the final scene cannot be bought separately.
comments powered by