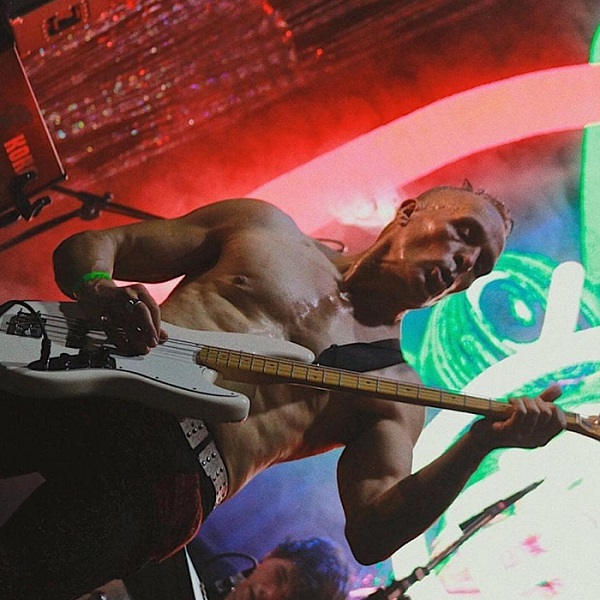 6 June 2019
Photo by Capitulation
On June 7th, 41-years after their initial incarnation, Membranes release a new and fresh long-player entitled What Nature Gives….Nature Takes Away. A full on extension of their 2015, highly acclaimed Dark Matter\Dark Energy . The UK based assault of John Robb (vocals and bass), Peter Byrchmore (guitar), Rob Haynes (drums) and Nick Brown (guitar) are firing on all cylinders. Both performing and releasing material which shows how critical the Membranes still are, and even, after all this time how they still have lessons on life to teach us.
This latest release is an exquisite album, one that presents a sixteen-track journey, rooted in the conceptual collision between post-punk and psychedelia. Since their reactivation In 2009, the Membranes have brought the essence of punk into the 21st-century. Reinventing the sound but maintaining the ideals. Through the legendary UK label, Cherry Red Records, the album will be launched on all formats onto the world.
Prior to the release of What Nature Gives…Nature Takes Away , Membranes front man and visionary, the gentleman John Robb, answered the questions I put to him about punk, politics, and the creation of the latest Membranes masterpiece.
Congratulations on the upcoming release of What Nature Gives…Nature Takes Away, it is such a huge landscape of an album, was it a long process from the very writing of it to the recording and finished product?
John: Yes, it took a couple of years. Once the idea of the nature theme came then it all made sense as the strands and ideas all fell into place. The actual writing of the music didn't take that long and we recorded the songs pretty fast as we like to record live. The long process was editing the songs down and adding the choir parts and other sounds to make them different as the album is not meant to sound linear all the way through. It is quite literally meant to take you on a trip, with each track picking up from the track before. The songs are very much in set pattern and a set order and the sides of the album are the ebb and flow of the seasons. Some of the tracks are meant to create an atmosphere as well – not be normal songs. So not exactly thrown together.
Was there a theme in mind when it came to writing the album?
John: Pretty early on I felt that the nature theme was perfect. The last album Dark Matter/Dark Energy was about the universe and was inspired after meeting Joe Incandela who was the head of the CERN project and I know very well. Joe was telling me about the multiverses, dark energy and the endless universe itself and it was a mind blowing discussion – like all your most mind expanding drugs rolled into a conversation and I wanted to recreate that feeling on a record whilst touching on the themes of the universe as well as life,,sex and death – the big themes!
With the new album the idea was to continue with the big themes but bring them back down to earth literally. Nature is a powerful backdrop – we are part of nature yet seem determined to think we are above it and can destroy it like a species that is driven by the Permian extinction or the last days of the dinosaurs.
We forget we are slaves to nature's whims and flows and its own internal logic and we certainly forget that it's the bacteria's planet and they just let us play around in the soup.
Also with my friendship with UK nature TV presenter and national icon Chris Packham and our shared interest in punk rock we had another fascinating angle to the album and the spoken word piece he contributed is a key point to the whole album as it explains the themes of the beauty and violence of nature that run through the record. The beautiful plumage of a bird is aesthetically pleasing for our eyes but is there to make the most desperate plea of attraction for the bird and also to tell all rivals to fuck off!
Apart from the obvious aging and maturity, how has the ideals of The Membranes changed over the past 40 years?
John: I guess the first part of the question is the answer!
You can't avoid getting older. You know more stuff. But you try and avoid pessimism as that is the poison of the right. Once you give up there is no escape but it's a tough battle. The world is locked in a battle now between two immovable blocks who are shouting very loudly and not listening. Trump policies are the new poison – there is no politics now, just toxic male power yelling insults at people and making huge profits and getting celebrated for it.
Words like maverick/rebel/outsider have been stolen by these people and the certainties of the post war past have been removed. I like flux and change though and you always have to be adaptable to what's going on and not hark back to a mythical past.
These are all the tensions that feed into creativity, although we don't sing about them directly. I like taking a more, dare I say, poetic path and stretching the words out into other places but the sentiment is still entwined in there.
Musically what we have learned is the art of space.
We don't all have to play at once and making space in music is key.
Dynamics is everything – learning to hold the tension and explode! The energy levels have never gone down though, maybe that because I don't do the rock n roll lifestyle – interestingly that lifestyle is something that has lost its sheen for younger bands and music is much more central to the culture than getting trashed which is interesting.
I also learned about creating textures and moods – the music doesn't have to be verse/chorus rock music – I like a lot of film sound track music which creates an atmosphere – the album itself could be a film soundtrack in many ways.
Was there a huge punk scene in Blackpool back in the day? Was there a person from that scene who influenced you most, both musically and artistically?
John: One of the powerful things about punk was that every small and medium sized town had its big punk scene.
It's amazing how powerful the scene was in so many different ways. Blackpool is the UK's premier seaside resort – a very working class resort town, famous for its tower and its piers and old school seaside fun – not the place that you would immediately think of of having a punk scene but there was a big and creative scene just behind the holiday pizzaz!
We did a fanzine in the town called Rox as in Blackpool rock and Xerox punned together and we had a local band list with up to 60 bands in it and that's not counting the people who were on the scene but not in bands.
It was really vibrant and with many DIY gigs and produced some really interesting bands in post punk, whether it was the Membranes, Section 25 – who were on Factory Records and whose debut album is Martin Hannett's finest production and equal with the Joy Division debut, there was another Factory band called Tunnelvision and lesser known bands like Vee V V who were doing great stuff. There was also punk bands like One Way System and The Fits – who released one of my favourite punk singles called "Tears Of A Nation".
There were many key gigs in the town – Joy Division played there in 1979 and it wasn't even sold out – people forget how small they were when they were going! Key gigs were mostly in Lancaster which is about 25 miles away – all the punk bands played there. After a Stranglers gig in Lancaster everyone wanted to form a band – interesting as that is not how the punk rock narrative paints things and the Stranglers were always treated as scene lepers but were hugely influential outside the given story.
With the United Kingdom divided and in turmoil worse than it was in 1977 at the dawn of punk, where is the anarchy in today's music? The reflection of society through art?
John: There is as much anarchy and political flavours in music as there ever has been. It's a myth that it stopped when you get to 27 years old and give upon on contemporary music! Bands like IDLES and Fontaines DC have top ten album with thoughtful lyrics about modern life – not slogans.
Punk itself was never as directly political as many people tried to make it – some of the bands like the Ramones would have seen at least half the line up celebrating Donald Trump's victory if they were still alive and the Sex Pistols were more about personal politics – "Anarchy in the UK", to me, has always been an anthem to teenage freedom – that rare moment in life when you feel wild and free and without responsibility and stay up for days on end running around on mad drugs and wild times – you can never go back there and that's the core to what rock n roll is about.
Of course there was an idealism then but there is an idealism now – every generation gets old and grumpy and the youth takeover – my facebook page is full of people grumbling about 'modern music' and talking in reactionary political voices – some of the old punks have gone straight!
I guess it's the cycle of life.
The under 25's have a very different agenda to the over 50's. They are now on the move politically, culturally and socially…they have their soundtracks and they don't care if you embrace it or not and that's the way it should be. Imagine getting people in their late fifties to understand punk rock in 1977??? I don't feel scared of this fast forward. I embrace their music and culture – I'm lucky as I never stopped as I always wrote about and listened to new music.
Where do you feel the themes of What Nature Gives…Nature Takes Away fit in within the modern music spectrum?
John: I don't care or set out to fit in but oddly we seem to have some parallels.
Even though it's not a directly ecological record, the ideas that we are part of nature and not above it could easily resonate with Greta Thunberg and the modern ecological movements – of course these are eternal themes but there is an added level off desperation now as the wreckers of the planet no longer hide away but are oddly celebrated for their stupidity. No wonder the teenagers are up in arms – it's not a chattering class debate any more – it's a matter of life and death for future generations.
Musically we just make the music we hear in our heads – there is no attempt to fit – we can only be true to ourselves and make the music that sounds good to us. We know no other way. We are rooted in punk – that was the game changer for us but it's heartening to see reviews and comments that say we have the energy and ideas that don't sound out of place next to IDLES or Fontaines DC (whose debut single I was going to put out when I met them in 2015!). We nod vigorously at these bands and applaud their creative and commercial success but remain very much on our own trajectory.
Do you feel What Nature Gives…Nature Takes Away is a departure from the usual sound of Membranes or is it simply an updated sound?
John: Every band has a certain parameter to its sound – no matter how you try and smash that you come back to the core things that you love. The heart and soul of the music I love is a bass guitar-driven post punk with deconstructed guitars making sounds or playing shrapnel against the bass but on this album we have really stretched out and made a music that has a beauty and epicness to it.
It's like a soundtrack to a very dark film – some of the songs would sound amazing in film scores – maybe the new Terminator movie or in a nature documentary!
Using the choir was a curveball but it fits into the nature of the band. We always loved drones and we use the choir as a drone and soundscape or to deliver melancholic melodic parts.
For me it makes total sense for the Membranes to be using a choir. It really fits into the high ambition that is at the core of our music.
If punk at it's very heart is an anthem of revolution, and strike back against political systems, then is What Nature Gives…Nature Takes Away an eco-angst of rage as nature revolts against the system that's damaged it?
John: Like I said before punk was many things to many people – it wasn't always a revolution – it could also be quite conservative for some people – the idea of taking rock n roll back to its roots in the 'good old days' was quite conservative.
In many ways post punk was the real battle field when everyone went in different directions all at once!
None of the songs on the album are as simplistic as having a rant at the fucking up of the planet but, of course, it's an underlying theme. It's there at the back of your mind every time you poison the planet a bit more by getting a plane or a train or moving around.
I try and do all the things I can to stem the flow – "every revolution starts with a small step" as Chairman Mao once said! I don't drive, I cycle everywhere, I'm vegan, I don't use plastic -all these thing are easy and even if they are micro it's a start but I know I am as guilty as everyone else of helping fuck things up. 'We Are All Prostitutes' as The Pop Group once so accurately sang.
The album's key themes are that we are part of nature and nature is what drives us. The beauty and violence of nature is us as well. We are not above it. We are chimps with suits on. The song, "Demon Seed/Demon Flower", on the album is about flowers being voluptuous with swollen parts to attract partners. They are in the same desperate battle of survival as we are but that battle creates a beauty – a flower in full bloom is a thing of beauty. Why destroy it? Why destroy this magical but dangerous tangled web?
Every creature on the planet would destroy the planet, though, if it had the chance – every creature is driven by its instinct for survival and at the same time destruction whether its Donald Trump or an ant. It's all about passing your genes on and fuck everything else – the brilliance of humanity is that it knows that this is wrong and the devil of humanity is that it just continues on its insane path!
Do you think with Membranes becoming active again, along with SLF and The Specials, that people are reaching back to the source of punk and original instigators at a time of uncertainty?
John: I think good bands can easily co exist with younger bands – music is a free art-form- everyone is welcome. There is a nostalgia level that helps the bigger bands like The Specials but they also confounded everyone by making an artfully genius new album in January that rewrote the rule book and went to number one. People do hark back for a perceived warmer, more glowing time of their rose tinted youth but, at the end of the day, you have to have something to offer to be valid and I like to believe – and the amazing reviews that we are getting for the album may underline this – that we have something to offer that is apart from our longevity.
Somehow we set to have made our best album in our 40-year history and one that justifies its existence. That's doing your career in reverse order!
How difficult or easy is it now to promote an album compared to when you released Crack House (1983) ?
John: It's very different now.
There used to be John Peel and about 8 journalists and after that nothing. Now you have a worldwide platform and with the help of a couple of PR's in different countries and Google and your own laptop you can reach out to people all over the place. We are working with Shameless Promotion PR internationally now. Music like ours is not tied by time or space and can make a big effect in Mexico, where we headlined a festival a few weeks ago and got an amazing reaction or Russia or China, for instance. We are not trapped by as smaller circle like we once would have been. We just want to be heard as we believe we have something interesting to offer.
Have Membranes played many of the new tracks on a live stage yet? and how did they come across to audiences beside the older material?
John: We always try and play new material – even now we may play songs we have only just written and not recorded yet.
I'm addicted to the risk of moving forward.
Some of the album tracks we have been playing for a couple of years and the reaction has been great – more than half the set will be from this album. I don't think people expect us to play old songs – that's not the kind of band that we are. People are interested in bands like ours because we are always morphing, changing and moving forward.
And finally have you considered again a remix down the line of What Nature Gives…Nature Takes Away similar to what you did with Dark Matter/Dark Energy and overhaul it with mixes and produce another Inner Space/Outer Space style release?
John: Not at the moment – the remix record was oddly harder to make than the actual album – there was a lot of work around chasing the tracks and also getting the pledge to work properly – for some reason it was really stressful!
Thank you John for taking time out to share so much with The Big Takeover, we wish you all the success for the future and, of course, with the stunning What Nature Gives…Nature Takes Away
For further information on John Robb, Membranes and the stunning What Nature Gives…Nature Takes Away go to:
Website
Facebook
Twitter
Instagram
Bandcamp
The latest video release from What Nature Gives…Nature Takes Away "Black is the Color":