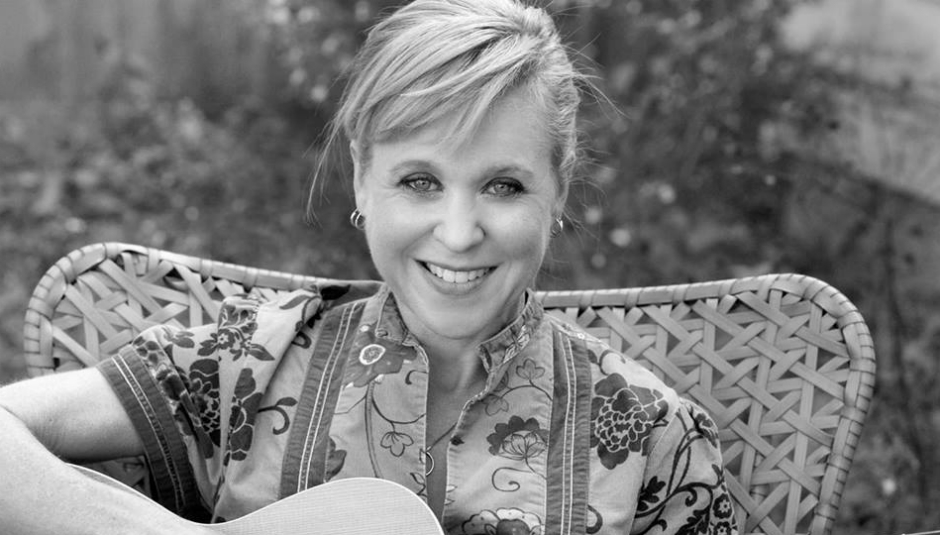 23 May 2019
Photo by Peter Mellekas
Kristin Hersh is a rarity of artistic integrity in the modern music spectrum. From her performances, Kristin's passion-soaked voice captivates audiences within the spell of her lyrical genius, which as always, is backed by chaotic guitars and distorted noise.
Her defiant chaos has remained intact for over thirty-years, and still as intense since Throwing Muses first became the pulpit of thunder for this alternative queen. Further intensified with another project 50FOOTWAVE, both bands over time have reached that legendary status. Kristin's breakaway into the solo artist field has summoned forth some of the best music of her career. Always raw, distorted and submerged in her personal, naked emotion.
Following on from 2015's, highly acclaimed Wyatt at the Coyote Palace, Hersh unleashes one of the finest recordings of her career, in the latest long-player Possible Dust Clouds (Fire Recordings). Now, pushing forward with a selection of tour dates across America this summer, billed rightly as the Live And Loud Tour. Fellow Throwing Muses member Fred Abong will be on hand as to will Rob Ahlers of 50FOOTWAVE completing the electric-trio lineup for the tour.
However, with even more news and activity planned as a reformation of Throwing Muses will happen at the Robert Smith curated Pasadena Daydream Festival (August 31st). Here Throwing Muses will share the stage with The Cure, The Pixies and Deftones. 2019 is certainly an exciting time in the career of Kristin Hersh.
Before she embarks on that Live And Loud Tour, I was privileged as Kristin took some time out to share her thoughts with me on music, guitars and life.
You have just finished a tour of the United Kingdom, after all this time do you still get nervous before a set or is performing just natural to you now?
KRISTIN: I had debilitating stage fright my whole life; I'm very, very shy. But a few years ago, I learned that I was dissociative, meaning that I had an alternate personality that wrote and played all my music, which is why I had no memory of writing songs or being on stage. I would walk out shaking, plug in my guitar and as soon as the first song started, my eyes would glaze over, I'd stop blinking, and the other personality would take over. My stage fright was due to not understanding what happened up there. After my two personalities were integrated, I lost my fear of playing. I have to be focused before I go on because we ask a lot of ourselves – we don't do the rock star thing, we're actual musicians, and I'm still shy – so I do get nervous but nothing you could call stage fright. I do love what we do. It's an honor that people show up for it.
On Possible Dust Clouds there is a variety of guest artists, were any of the songs wrote with the intention of getting someone to add a particular sound? Or were they just in the right place at the right time?
KRISTIN: Immediately after a song is written, I start producing it. Most of the songs on this collection wanted to sound like happy chaos. These particular friends know how to sound intense and fun at the same time. A rare skill! No mopey part went down, but nothing shallow or vague, either. I wanted hard but not pissed off, which is exactly what these musicians are like.
"Loud Mouth" is a personal favorite of mine from Possible Dust Clouds especially the line "Noise crawls through cracks in the wall", do you ever amaze yourself with your imagery?
KRISTIN: Haha…you're a nice man! I don't think of it as my imagery. I'm just listening while songs talk.
Do you ever compare your work now to your previous outings to get a sense of measuring yourself?
KRISTIN: Well, not in a good way. More like, that was sure annoying, let's not do that again.
You are at your very best when the music is at its most distorted and intense, are you at home in chaos?
KRISTIN: I love noise. I like to swim in it, to hide behind it, to paint with it. I really, really love noise.
You have a broad range of guitars from Gibson Les Paul's, SG's, Telecaster and your Collings guitar, do different songs or even albums get wrote on different guitars?
KRISTIN: Fifty Foot Wave songs are written on my Les Paul or my SG's, Muses on my Tele or Strat and solo on my Collings. My drummers tell me this system is: "stupid." I had to sell most of my guitars to finish making Possible Dust Clouds, though, so the drummers win. Drummers always win.
I find it difficult to pinpoint any direct influence in your music and sound, what music did you draw from in the early days for inspiration?
KRISTIN: I didn't. I thought musicians were supposed to invent their own sonic vocabulary. They're not. People thought we were from outer space.
Is it a case of separating personas and creating a selfish state of mind for solo material? As in a different Kristin Hersh for Throwing Muses and 50FOOTWAVE compared to the Kristin on Possible Dust Clouds?
KRISTIN: It's all the same "music" I think; meaning the same grasp of an altered state of sensory involvement in a story I've lived. I have to have lived the story, or I'd be lying when I told it. But the point is really to disappear behind the lens of the song until it's no longer self-expression but song expression. It's the style of telling that changes band to band: is this story a pencil sketch or a painting?
Do you think songwriting can get addictive like the striving for perfection?
KRISTIN: It's certainly addictive but I don't know exactly why. You could be right. Vic Chesnutt used to say we were trying to write the perfect song. I think maybe a collection of songs better strives for that kind of messy, unbalanced perfection. A stasis in struggle.
You have spoken openly about your personal struggles with Bi-polar and PTSD, was that a conscious decision to inspire others who experience the same?
KRISTIN: No, I kept it a secret until some writers found out I'd just been released from the hospital and I've been backpedaling ever since. Now I know that I had no mood disorder or mental illness of any kind. I was cured of my PTSD and my dissociative personalities were integrated. I actually wrote a book about being misdiagnosed bipolar (Rat Girl/Paradoxical Undressing in the UK) and became a kind of spokesperson for bipolar disorder. So clearly, people want something to be going on with others' mental states…maybe as a kind of wide net support group? And that's fair. Just kind of sad.
What kind of personal feedback do you get from fans about your songs? And does it spur you on or how does it make you feel?
KRISTIN: I started asking people on my last tour why they listened to this stuff. I don't know why I was doing that; just curious, I guess. Because it isn't always what people who aren't musicians would call "fun". They all said they listened because it made them feel less alone. I like that, but I hope I can do a little better than crawling into a sad pit with them and just sitting there. A musical ladder would be good…
As mother to four children, do they ever give you feedback about your music?
KRISTIN: They all have really incredible taste in music and they all claim to like mine. So at the very least, I have nice children. My son, Wyatt True, played drums on "Breathe In" on Possible Dust Clouds.
Do you ever see a time when music will lose its 'buzz' and you will throw yourself into writing primarily books?
KRISTIN: No. Books are lovely places to go and they communicate well, but music is my religion.
Thank you again Kristin, wish you further success with future projects and looking forward to seeing you in concert again soon.
KRISTIN: Kevin, you're so kind…thanks again!
LIVE AND LOUD TOUR DATES
June 19 Northampton, MA – The Iron Horse
June 20 Somerville, MA – Once Ballroom
June 21 Hamden, CT – S pace Ballroom
June 22 New York, NY – Mercury Lounge
June 23 Washington, DC – Union Stage
June 24 Philadelphia, PA – Boot & Saddle
June 26 Carrboro, NC – Cat's Cradle
June 27 Atlanta, GA – Terminal West
June 28 Athens, GA – 40 Watt Club
Aug 31 Pasadena, CA – Pasadena Daydream Festival (as Throwing Muses)