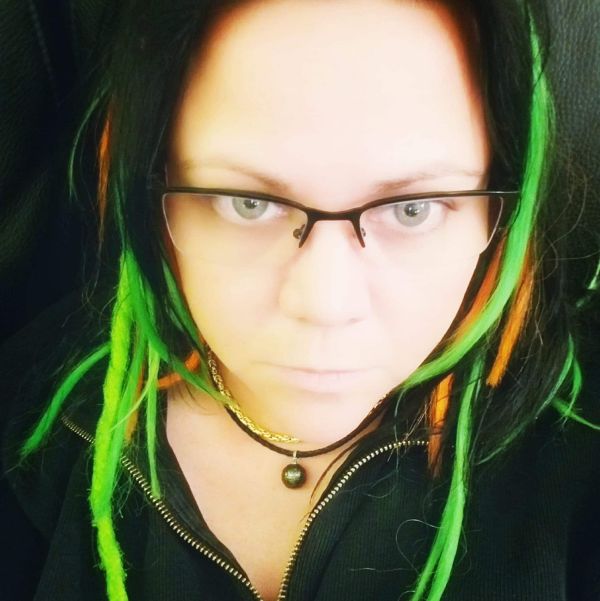 26 April 2019
Cat Hall of Dissonance – Photo courtesy of Cat Hall
Vocalist and composer Cat Hall releases her music project Dissonance's fifth album, Ascent, and The Big Takeover is thrilled to host the premiere of it in full.. The LP was produced and co-written by Jim Marcus (GoFight, Die Warzau) and featuress synth-pop legend Kurt Larson (Information Society) on the song "Poison Kiss".
Considered Cat's best album to date, Ascent is energetic, danceable darkwave that acknowledges classic club music with her engaging and unique vocal style. Ascent is out now exclusively on Bandcamp through record label Hakatak International and is also available worldwide on all major platforms starting today.
Album-opener "Break Myself" marches along at a determined pace with a pumping drum beat, bright electro notes and synths curves. Cat's direct and plaintive vocals run through the track with passion. Up-tempo electro/synth-popper "Poison Kiss" features the cool and recognizable vocals of Kurt Larson who's surrounded by a kicky beat, percolating percussion, and Cat's twinning vocals on the chorus sections.
"Murder of Love" keeps the vibe lively with jumpy sonics, swooshing synths, and Cat's dispassionate vocals as she intones, "I've been a victim of your love". Continuing with the dancefloor electro vibe, deep zig-zagging and staticky sounds course through "Taste". The spare "Drive" strips it down to a sporadic echoed beat, bright clangs, gritty buzz,and reverberating electro-notes. A ruminative Cat sing-talks the lyrics, "Driving into nowhere / …drive me because you're driven."
The finale is a sweeping, upbeat number named "Starstuff" that whirls with a fast-chugging beat, rising synth-strings, quirky electronics, and Cat's deep disco diva vocals. It's a fitting and engaging track that caps off Cat's trek through the electronic and synthetic realms that merge with her organic lyrics and vocals.
Dissonance began as an electronic duo in the early '90s consisting of Cat Hall (vocals) and David Sebrind (keyboards). They caught the ear of Paul Robb (Information Society) who was forming his label Hakatak International and they were signed in 1996. Dissonance's first self-titled release came out in 1997. The style was edgy electronica, with Cat's distinctively layered vocals. 1998 saw Cat working with Paul Robb on a more aggressive solo project (Cat Hall – Come To Mama, also available on Hakatak).
The second record from Dissonance came in 2000 with Reincarnate via Nilaihah Records. After this, the band focused on individual pursuits until 2015 when Cat revived Dissonance and began work on Ascent by collaborating with several new co-writers. While waiting for the completion of the album, Hakatak released Dissonance's Void, a much darker album, in 2017; and in 2018, Dissonance's Sycamores.
Ascent will be followed by two maxi-single releases, Starstuff and Poison Kiss, with several remixes and bonus tracks on each. Future plans include more collaborations for Dissonance and Cat Hall. Upcoming projects include The Insatiable Disquiet and SINthetik Messiah.
Dissonace Bandcamp
Cat Hall Bandcamp
Facebook
SoundCloud