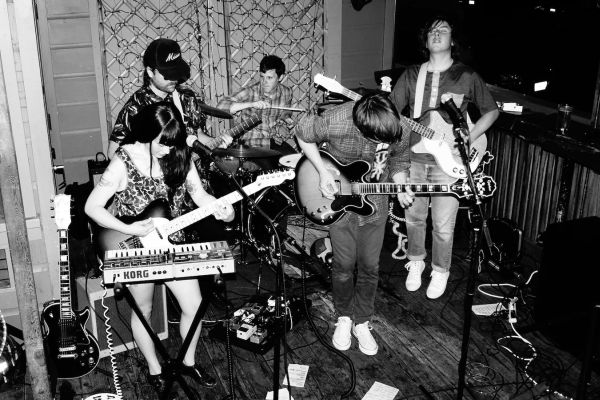 25 June 2020
Cocktails – live – Photo courtesy of Cocktails
Catastrophic Entertainment the new album from San Francisco-based indie/power pop purveyors Cocktails, is full of fuzzed-out melodies, catchy choruses, sticky guitar riffs, and pop-rock heaters. Produced and mixed by the band, the LP relies heavily on what Cocktails does best: bluntly bashing out well-crafted pop songs.
When main singer and songwriter Patrick Clos teams up with lead guitarist Joel Cusumano (Sob Stories), synth/vocalist Lauren Matsui (Seablite), bassist Rob Goodson (Re-Volts), and drummer Phil Lantz (Neutrals), it just hits a bit differently: the result has a certain kinetic nervous energy – an audible adrenaline rush.
Big Takeover is pleased to hosts the premiere of Catastrophic Entertainment. Clos describes the new record as, "a raw and dirty monster of a pop record. "We're a scrappy power pop band at heart, but we've never quite fit in nicely; a little too poppy for a punk thing, and then we're always rocking too hard to be an indie pop band."
Clos adds, "On Catastrophic Entertainment, we were able to just kind of take our time and try some different approaches. We recorded several songs in a legit studio and then some of them on our own, which took a little bit of whatever pressure away of having to work quickly paying money in a studio, and generally just not having to go in with a totally finished product. That allowed us to experiment a bit more:"
""Buried Alive" was one of the first ones we did on our own and we were able to go in this almost stoner-pop direction on that one, which at first was like 'Can we do that?! Sure.. Why not?!' haha.. "Take it Back," the final track on the album, kind of builds up and then falls apart and gets awfully close to emo territory."
""Washoe County" started out as an attempt at a full-on country song but after it got the full band treatment and it came out more like a pub rocker. But overall the record has all these elements mixed in with like our usual guitar pop stuff and I personally feel it makes for a more interesting listen."
""Love is Gone" which features Lauren Matsui on lead vocals is about feeling down on the city/community you live in – or how that relationship is a two-way street. The idea of going through some personal issues but also the double whammy of no longer being able to relate to the community because everyone is a rich tech worker. I don't feel that way all the time about San Francisco, but it's definitely a mood."
""Never Be Alone" was written around the time of my wedding. I typically love a good catchy melody paired w/ miserable, down and out bummer-style lyrics, but for this particular track I wanted straight up easy-going feel good vibes and positivity."
""Waiting on the Summer" was loosely inspired by my cousin who was a public school teacher for years in Texas and teaching middle-school aged kids in a really difficult/stressful environment. My take is very exaggerated, he wasn't like drinking on the job or anything haha, that's fiction, but the job was killing his soul and it just wasn't for him. In my mind the teacher/narrator just wants summer to arrive so he/she can tour with a rock band while still getting paid."
The common thread between these 11 songs that play out like a choose-your-own-adventure experience is the pop craftsmanship put into the songs and the lack of pretension. Cocktails may no longer be the new kids on the block at the power pop game, but with Catastrophic Entertainment the band have taken their own sound to a new level, making it known they belong in the genre's heavyweight division.
Pre-order Catastrophic Entertainment limited-green vinyl at Bandcamp and at Wizards and Potions
Vinyl pre-orders Include unlimited streaming of Catastrophic Entertainment via Bandcamp, plus high-quality download in MP3, FLAC, and more.
Additionally, Cocktails has contributed a cover of Fountains of Wayne's "Sink To The Bottom" to Father/Daughter Records' Adam Schlesinger tribute album Saving for a Custom Van, released June 5th, exclusively via Bandcamp.
Cocktails appears alongside other artists including Nada Surf, Apex Manor, Jeff Rosenstock, Motion City Soundtrack, Rachel Bloom, Charly Bliss, Kay Hanley, Ted Leo, and many more. All of the proceeds from the compilation are going to MusiCares' COVID-19 Relief Fund.
Buy/stream Saving For A Custom Van at Father/Daughter Records Bandcamp