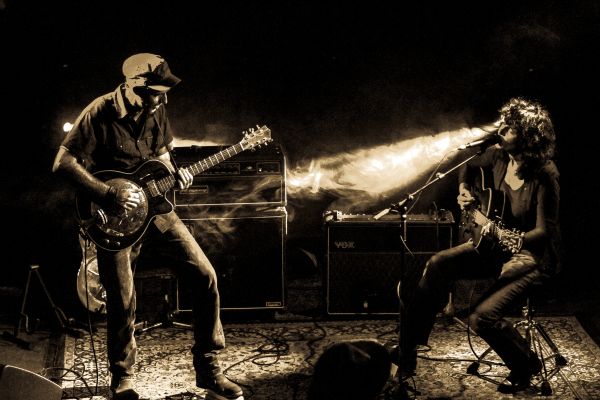 15 March 2019
Alice Tambourine Lover – live – Photo Credit: Reynald Reyland
Wandering between soporific Mazzy Star/Cowboy Junkies atmospheres and more gritty moments reminiscent of Mark Lanegan, the comeback of Bologna, Italy-based duo Alice Tambourine Lover lingers on their stripped-down psych-folk/blues signature sound.
This time, on their fourth album, Down Below, the twosome plunge more into the psychedelic side, while still keeping a folk-like directness. The LP will be released via Italian heavy psych-rock label Go Down Records.
The Big Takeover is swooning over hosting the premiere of Down Below as it blooms with dreamy vocals by Alice Albertazzi that intertwine with Gianfranco Romanelli's guitar textures. Occasional e-bow, leslie, and harmonica phrases gently take the edge off.
Dust and honey mix together in a dark homage to the lysergic '90s, when moody indie music made up the landscape, from arid desert hallucinations of the American Southwest to the austere moorlands of the U.K. The duo slowly swirl psychedelia, desert-rock, spare folk, and blues elements into a captivating atmosphere.
Alice Tambourine Lover was founded in 2011 as a side-project of psych band Alix, which had already released five albums. Among those LPs, Ground was recorded by David Lenci and Good One was recorded by the renowned Steve Albini.
In 2012, Alice Tambourine Lover played the All Tomorrow's Parties Festival that was headlined by Neurosis, Shellac, Red Fang, and Uzeda. The duo dropped all previous three albums through Go Down Records; Naked Songs (2012), Star Rovers (2013), and Like A Rose (2015), which features two songs by Dandy Brown (Hermano, Orquesta Del Desierto) and John Garcia (Kyuss, Unida, Hermano).
Their dense, mystical, and cinematic sound has also caught the attention of film directors Iris Elezi and Thomas Logoreci, who chose "Hungry Thieves" (Alice Tambourine Lover) and "The Sweet Smelling – Roads" (Alix) for the soundtrack of the film Bota Cafè.
So go down the hazily narcotic, slow-sliding path into the psych-tinged dreamworld that Alice Tambourine Lover has created on their new album:
Pre-order links:
Black Vinyl
White Vinyl
Facebook
Twitter
Instagram
YouTube
Bandcamp
SoundCloud
Spotify