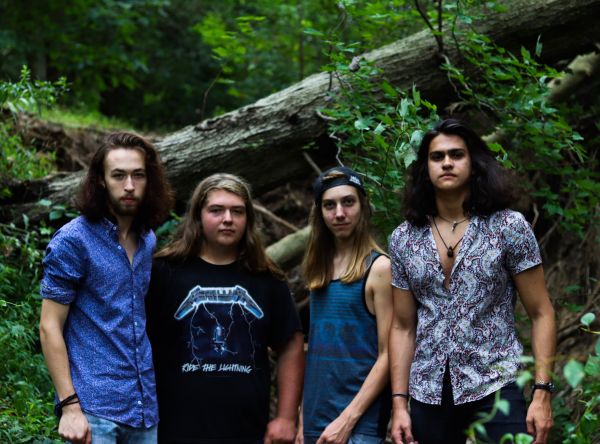 7 December 2018
Pathetic Fallacy – Photo Credit: Chloe Brenna
New Jersey-based metal band Pathetic Fallacy will release their second EP, titled Regicide, on December 8th, but today you can hear the full stream early here at The Big Takeover!
Louis Sabba (guitar), Julian Worden (vocals), Tasman Cioppa (Drums), and Matt Diguiseppe (bass) have created an aggressive to reflective, harsh to melodic, raw to pensive, socio-politically relevant EP that's a blast of fresh air.
It kicks off with the slammin' "2018", which was inspired by George Orwell's book 1984. The band blaze through next track, "Kazaze", burning up with incendiary guitar lines, rapid-fire drum beats, and on-edge, shouted out vocals. Wild metal guitar acrobatics run through the last half of the track.
The lyrics, whether sung, or exclaimed, mostly remain clearly heard (a welcome change from most metal songs!), so their full impact can be absorbed. Pathetic Fallacy slow down the pace on the middle number (well, until its heavy metal ending), the contemplative "Paradise Lost". Timely sentiments like, There's got to be a better way out of this mess." resonate with what's happening socially and politically in so much of the world currently.
The title track rages with frustration and aggravation, roiling like a nightmare on fire, with pointed lyrics like, "And I'm so sick of / All this misery / You inflict on those who help you breathe" that could easily apply to the current occupant of the White House…
The relentless last track "Pitiful" attacks with vocal fury, gritty guitar stabs, low-end bass grind, and punishing drum beats, finishing off a potent EP that highlights timely lyrics and metal/hardcore prowess. Crank it up loud!
Most of Regicide was written last year before Pathetic Fallacy's debut EP The New Years Tapes was released, but the band wanted to save these songs and give them some more time for a proper release.
"The meaning behind the name 'Regicide' is derived from the word's actual meaning, which is 'the action of killing a king'," says vocalist Julian Worden. "I decided to relate it to the ungrateful and generally unpleasant people in the world who blatantly take everything for granted and think of themselves as kings."
For the album art, the band worked with Trevor McKeon (at BoyExtraordinary on Instagram) to create the deer or "the regal king of the forest" that is wearing a crown and being split in half with his soul coming out, which signifies his death.
Regicide with be available on all streaming platforms on December 8th.
The band will celebrate the release with a show on December 15th at Asbury Music Foundation in New Jersey.

Website
Facebook
Twitter
Instagram
YouTube
comments powered by