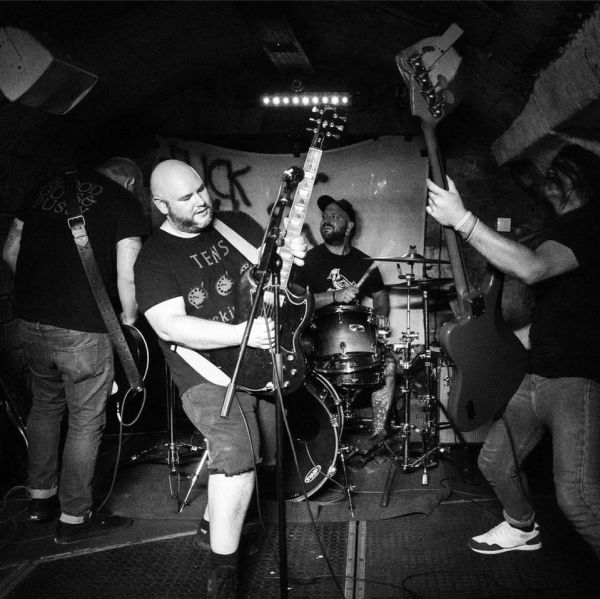 1 March 2019
The Raging Nathans – live in France – Photo courtesy of The Raging Nathans
Rad Girlfriend Records will be unleashing the Dayton, Ohio-based punk band The Raging Nathans' Sleeper Hits: Sordid Youth Vol. 1 on March 8th in vinyl format. The Big Takeover is psyched to host the premiere of this compilation album in all its raw, aggressive, and uncompromising glory.
The LP is a 22-track collection of the band's split 7"s, EPs, rarities, B-sides, and cover songs, starting with their first 7" EP in 2012 and ending with their split with Rad Company in 2017. It even features one unreleased track from the Cheap Fame recording sessions. All of the tunes on the record have been digitally remastered. The album comp also includes an 11" x 17" insert containing lyrics, pictures, and liner notes.
This is a perfect record for any fan who missed any of The Raging Nathans' limited 7"s or hard-to-find songs – and for the uninitiated who want to dive deep into the fast and furious world of The Raging Nathans. The consistently touring group is led by Josh Golden who also runs Rad Girlfriend Records.
All of The Raging Nathans' output is on one chronologically arranged collections LP which gives a unique and comprehensive look into the history of one of the DIY punk scene's hardest working punk bands.
Buy Sleeper Hits: Sordid Youth Vol. 1 on vinyl format at the Rad Girlfriend Records Website
Buy Sleeper Hits: Sordid Youth Vol. 1 on digital, record, or vinyl formats at Rad Girlfriend Records' Bandcamp
Only 100 available on White Vinyl with Multi Color Splatter and 100 available on Night Animal Records on solid blue vinyl. Cassette available at No Time Records.
TOUR DATES
03/01 Detroit, MI at Grizzlys
03/30 Indianapolis, In at Melody Inn
04/02 Cincinnati, OH at COMET (residency)
04/09 Cincinnati, OH at COMET (residency)
04/16 Cincinnati, OH at COMET (residency)
04/23 Cincinnati, OH at COMET (residency)
04/30 Cincinnati, OH at COMET (residency)
05/16-18 Montreal, ON at Pouzza Fest
5/31 – Dayton, OH at Blind Bobs
06/01-Brooklyn, NY at Gold Sounds
07/26 London, UK at New Cross Inn
07/27 London, UK at Secret Show
07/28 Portsmouth, UK at Edge of the Wedge
07/29 Manchester, UK at The Peer Hat
07/30 Bristol, UK at Mothers Ruin
07/31 Stafford, UK at Redrum
08/01 Blackpool, UK at Rebellion Fest
08/02 Blackpool, UK at Rebellion Fest
08/03 Duffel, BE at Brakrock Ecofest
08/05 Milan, IT at Eterotopia
08/06 Genova, IT at TBA
08/07 Tolmin, SL at Punk Rock Holiday
THE RAGING NATHANS
Facebook
Twitter
Instagram
Bandcamp
RAD GIRLFRIEND RECORDS
Website
Bandcamp
comments powered by