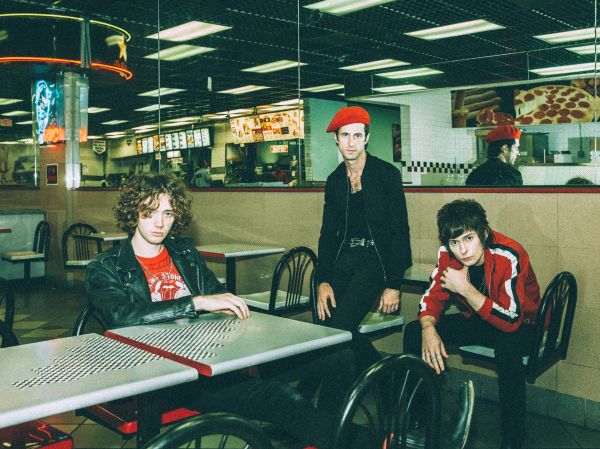 8 January 2019
Warbly Jets – Photo Credit: Erina Uemura
Warbly Jets' new EP, Propaganda, has the Los Angeles trio examining the idea of life-commodified, with a genre-wrecking, sample-based set of rock songs that highlight their studio dexterity, as well as their disinterest in doing what anyone expects of them.
Just like their 2017 self-titled debut, Propaganda pulls no punches, articulately and acidicly riffing on the seedy state of things, over an arena-ready, anthemic sound and massive beats.
"'Propaganda' is a term as much as it's a cultural ethos that's been widely accepted. Anything from advertisement to self-aggrandizement qualifies," explains multi-instrumentalist Julien O'neill. "From social media, push notifications, targeted ads—we've openly elected to carry around miniature billboards, playing our part under the promising guise of a sense of 'connection.' We feel empty without it"
After a non-stop year spent on the road opening for Liam Gallagher, The Dandy Warhols, Mystery Lights, and Night Beats —as well as headlining international tours of their own in China and the UK— Propaganda served as a welcome return to Ultrasound Studios, the band's home-base in downtown Los Angeles, and a chance to use their new-found experience, stamina, and perspective to take things to the next level.
"We were getting burnt out and really wanted to shake up our writing process, so we've been working much more with samplers and keyboards," states frontman Samuel Shea. And while Propaganda does provide a distinct shift in the band's sound, the juiced-up, souped-up prowling attitude they do so well remains right at the core.
With early praise from national and international press, as well as a swift climb up the Spotify charts, plays on Sirius XMU and Beats1, Warbly Jets gearing up for their 2019 North American Tour, which kicks off on January 11th. Tour Dates below.
TOUR:
GET TICKETS HERE
JANUARY/FEBRUARY: NORTH AMERICA
1.11 – Los Angeles, CA at The Echo (w/ Collapsing Scenery)
1.12 – San Francisco, CA at Bottom Of The Hill
1.14 – Portland, OR at Lola's Room
1.15 – Vancouver, BC at Biltmore
1.16 – Seattle, WA at Barboza
1.18 – Sacramento, CA at Blue Lamp (w/ Night Beats)
1.19 – Visalia, CA at Cellar Door (w/ Night Beats)
1.25 – Las Vegas, NV at Bunkhouse Saloon
1.26 – Salt Lake City, UT at The Stateroom
1.27 – Salt Lake City, UT at Sundance
1.30 – Phoenix, AZ at Valley Bar
2.01 – Austin, TX at Mohawk
2.02 – Dallas, TX at Three Links
2.04 – Nashville, TN at The Basement
2.06 – Washington, DC at Songbyrd
2.07 – Brooklyn, NY at Elsewhere Zone One (w/ Collapsing Scenery and w/ Moonwalks)
2.08 – New York City, NY at Mercury Lounge
2.09 – Philadelphia, PA at Kung Fu Necktie
2.10 – Boston, MA at Middle East
2.12 – Montreal, QC at Quai Des Brumes (w/ Moonwalks)
2.13 – Toronto, ON at The Drake Underground (w/ Moonwalks)
2.14 – Detroit, MI at Third Man Records (w/ Moonwalks)
2.15 – Chicago, IL at Schubas (w/ Moonwalks)
2.16 – Minneapolis, MN at 7th Street Entry (w/ Moonwalks)
2.17 – Kansas City, MO at The Riot Room
2.19 – Denver, CO at Lost Lake
APRIL (CHINA):
4.28 – Beijing at Omni Space
4.29 – Shanghai at Yuyintang
5.03 – Wuhan at Vox
5.04 – Chongqing at Nuts Live House
5.05 – Chengdu at Little Bar
5.08 – Guangzhou at Rutu Space
5.09 – Shenzhen at B10
5.11 – Taipei at Revolver
Website
Facebook
Twitter
Instagram
comments powered by