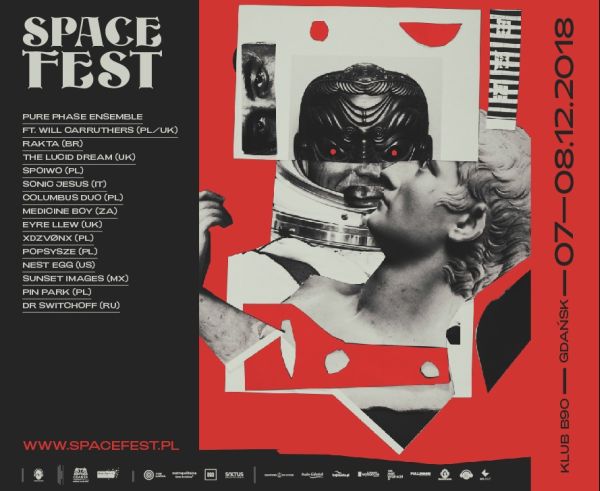 20 November 2018
SpaceFest Poster 2018
It's that time of year again – for SpaceFest! On December 7th–8th, the city of Gdańsk in Poland will again be the East European hub of psychedelic sounds, celebrating guitar distortions, noise drones, and other mysterious sounds created under the influence of cosmic energy.
Ladies and gentlemen, welcome to the eighth SpaceFest! The organizers have also announced that Pure Phase Ensemble 8 will be led by Will Carruthers (Spacemen 3, Spiritualized, Spectrum, The Brian Jonestown Massacre, Dead Skeletons).
In past incarnations of Pure Phase Ensemble, the group was curated by Mark Gardener (Ride), Anton Newcombe (The Brian Jonestown Massacre, Laetitia Sadier (Stereolab), Ray Dickaty (Spiritualized), Steve Hewitt (Placebo), Jaime Harding (Marion), Chris Olley (Six By Seven), and Hugo Race (The Bad Seeds, The True Spirit).
This year's edition will include even more concerts, taking place not on one, but two stages of Klub B90. The lineup includes a mouth-watering, transcontinental selection of music for fans of the heavier side of rock, new psychedelia, space-rock and shoegaze, as well as electronic and experimental music. SpaceFest is offering concert-goers a one-way ticket to discover new psych sounds and bands (without having to go all the way to the moon).
This year's selection of artists includes Brazil's very own Rakta, who will immerse you in their garage psychedelic music, strongly inspired by tribal rites, occultism, and trance rhythms. These girls rock and take no prisoners!
Hailing from Cape Town, South Africa is Medicine Boy. This duo will enchant you with their oneiric female vocals and downtempo, unsettling, narcotic-infused sounds, only to explode in solid, noise drones when you're least expecting it.
The Italians from Sonic Jesus are no strangers to guitar distortions, trance electronic beats, or pretty much anything gothic. Their concerts promise a blast of pure energy.
Eyre Llew are an ambient-rock trio from Notthingam UK, who are making waves with their beautiful, ethereal sounds. If you're fans of Sigur Rós or Mogwai, this concert is a must.
The Lucid Dream represent the UK's young alternative scene and do not shy away from experimenting with various genres. Their set will combine psychedelic rock with elements of acid house, dub, and kosmische Musik.
Pin Park's music is strongly inspired by German experimental electronica from the 1970s. Using original instruments from the time, they create a broad spectrum of analogue sounds, generating music that is soothing, melancholy, and structured based on looped, developing motifs, and punctuated with crafty details and nuances.
Nest Egg, a heady trio from North Carolina (US), like to call their heavy, Motorik, rock sound "mood music for nihilists".
Spoiwo combine post-rock, shoegaze, modern classical, and film music. This will be the band's first concert in Gdańsk after a long break, and a real treat for faithful fans, as the musicians are going to present some tracks from their upcoming album.
Gdańsk-based trio Popsysze also promise to play some premiere tracks. This is probably the strongest psychedelic, space-rock representation in northern Poland, strongly inspired by the wild nature of the Kashubian region and ethnic music from various corners of the world.
The SpaceFest! 2018 line-up is would not be complete without two winners of our competition for interesting psychedelic acts: Columbus Duo from Gdańsk (noise/ drone / ambient /improv) and XDZVØNX from Wrocław (sacral noize/dark electro – a surprising mix of broken beats, Orthodox music, hip-hop, and hypnotizing visuals).
Mexico's SUNSET IMAGES also merit particular attention with their pure-blooded guitar psych peppered with elements of experimental noise and shoegaze.
Like each year, one of the main highlights of the festival will be the Pure Phase Ensemble 8 – an international formation created specially for SpaceFest!
Throughout the week before the festival, a group of 10 musicians will meet to jam at Łaźnia CCA, composing and playing material that will later be presented live to the Spacefest audience. PPE8 will be curated by Will Carruthers, legendary musician who spent the last 30 years playing in 33 bands, including Spacemen 3, Spiritualized, SPECTRUM, The Brian Jonestown Massacre, and Dead Skeletons.
And, last but not least, is the SpaceFest regular Dr Switchoff (RU) whose crazy Finders Keepers-inspired DJ sets with absurd visuals will end the first and second day of the festival.
The years go by, but one thing stays the same: SpaceFest stands for great music, zero gravity, and maximum psych factor! Organized by the Nasiono Association
, this event is co-funded annually by the City of Gdańsk in partnership with Łaźnia Centre for Contemporary Art, Metropolitalna Karta do Kultury, B90, Saltus Ubezpieczenia
. Media patrons include Shameless Promotion PR, Drowned in Sound, Last Day Deaf, Radio Gdańsk S.A., Trojmiasto.pl, Gazeta Wyborcza, Co Jest Grane24, Full Moon Magazine and GoOut.pl.
CONCERT LINE-UP
7 December 2018 | doors: 6:30 p.m.
Nest Egg (US)
Medicine Boy (ZA)
Pin Park (PL)
Sonic Jesus (IT)
Sunset Images (MX)
Rakta (BR)
Dr Switchoff (RU)
8 December 2018 | doors: 6:30 p.m.
Eyre Llew (UK)
Popsysze (PL)
The Lucid Dream (UK)
Columbus Duo (PL)
Pure Phase Ensemble ft. Will Carruthers (PL/UK)
XDZVØNX (PL)
Spoiwo (PL)
Dr Switchoff (RU)
Tickets cost between PLN 25-75 (discount for students and CARD TO CULTURE holders)
and may be purchased HERE or via GoOut, Soundrive Tickets and www.KupBilecik.pl.
Check out two offerings from previous incarnations of Pure Phase Ensemble – the first is the Ummagma edit of "Happy Dancing Woman" featuring Mark Gardener, and the second is featuring Anton Newcombe:
Keep up with Pure Phase Ensemble / Nasiono Records
Nasiono Records Website
PPE Facebook
PPE Bandcamp
PPE Twitter
Nasiono Records Soundcloud
Nasiono Records YouTube
Keep up with SpaceFest
Website
Facebook
Twitter
SoundCloud
comments powered by