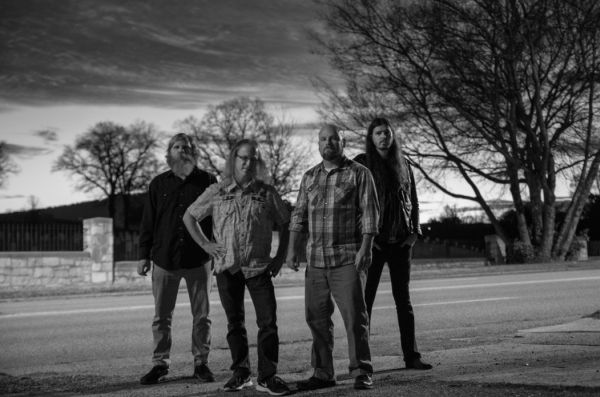 11 March 2019
Bohannons – Photo Credit: William Joseph Johnson
Premier indie Southern rock band Bohannons are gearing up to release their next studio album, Bloodroot, on April 5th via Cornelius Chapel Records.
Bohannons are one of Chattanooga's finest exports, who make heavy rock 'n' roll that's equal parts Motörhead and Neil Young, with lead guitar chops that rival both. Marty Bohannon's sharply resonant vocals pierce through brother Matt Bohannon's ringing and burning guitar lines and stirred up by the rousing rhythms of bassist Billy C. Robinson and drummer Mike Gaut.
Every album, from 2010's Days of Echo to Luminary Angels in 2015, is an invitation to listen and look into both the blessings and burdens of the working-class South, and Bloodroot is no different. The Big Takeover is extremely pleased to host the premiere of "Girl in Chicago", a potent and lyrically relevant song off the album.
Marty's emphatic vocals stamp through the storytelling track, defiant and determined, singing pointedly about a girl who's escaped the South and is living in Chicago. She longs for home, but realizes that she'd be going back to her restrictive community and the way things were in the past. A rueful Marty howls out, "Please tell me why / Why won't they change?", specifically singling out racist and divisive Southern organizations and methamphetamine-makers.
Marty's stinging vocals are at first supported by a fluid and restless guitar pattern, and then in come the supple bass line and pounded out drum beat. The fiery chorus lifts off on eagle's wings as Marty is backed by his bandmates vocally and the instruments increase their intensity and complexity.
Marty digs into some details about "Girl in Chicago", divulging, "Touring these last few years we often reconnect with Chattanooga natives scattered across the country, even Europe. It's amazing the perspectives. Overwhelmingly it's "I wanna go back, but, ya know." Truly a beautiful place, with some not so beautiful politics. Things are getting better thanks to some forward minded figures in recent years. But then again, voice has been given back to some people who would see this country become the very thing it was designed to escape. The narrator calls out the four biggest flaws he sees in the community; a cult, a religion that doesn't recognize other religions, drugs of the worst variety, and those who cling to the flawed past as pride."
Bohannons' Bloodroot will be available on vinyl, CD, digital and streaming formats on April 5th via Cornelius Chapel Records
BOHANNONS 2019 TOUR DATES
April 4 – Birmingham, AL- The Nick (Bloodroot Record Release Party / Cornelius Chapel Records Showcase)
April 5 – Tuscaloosa, AL – The Alcove (Bloodroot Record Release Party)
April 6 Chattanooga, TN – JJs Bohemia (Bloodroot Record Release Party)
May 25 Nashville, TN – The Basement
(additional dates to be announced soon)