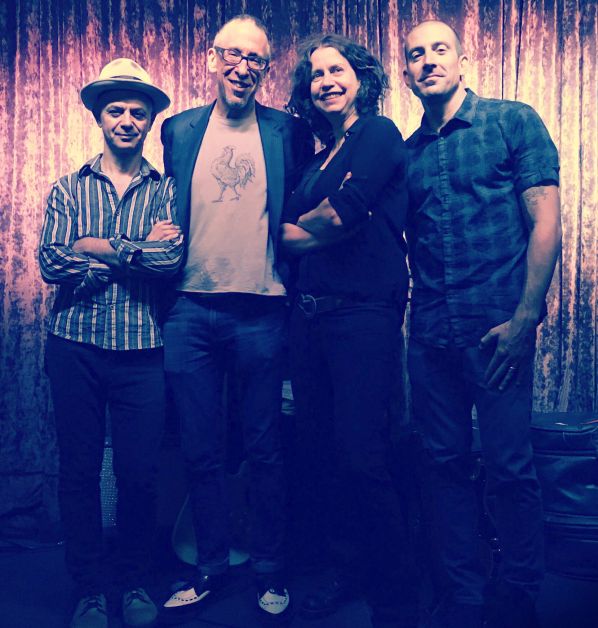 1 May 2019
Karyn Kuhl – Photo Credit: Christina Pepe
Hot off their song "Be Your Friend" being featured on the Freeform network hit Good Trouble, the Karyn Kuhl Band returns with the triumphant single "Hey Kid," the title track from their upcoming EP. The Big Takeover is stoked to host the premiere of the passionately mellow and melodic track. A glance back at the past and a message for the future, Kuhl delivers her insightful lyrics with cool gravitas that swells into fervent exclamations by song's end.
The Hey Kid EP, due out June 7, was produced, recorded, mixed, and mastered by Ray Ketchem (Guided by Voices, Alex Chilton, Luna) at Magic Door Recording in Montclair, NJ.
Karyn Kuhl first received national acclaim for her early bands Gut Bank and Sexpod, growing out of the vibrant Hoboken music scene and the legendary club Maxwell's. ("Gut Bank's The Dark Ages is one exceptional debut album." —Robert Palmer, New York Times) With her current group — featuring James Mastro (the Bongos, Ian Hunter, reunited Mott the Hoople) on guitar, Larry Heinemann (Springhouse, Blue Man Group) on bass, and Jonpaul Pantozzi on drums — Karyn rocks more commandingly than ever before. Her rich, expressive vocals blend with the weaving, sonic textures of Kuhl and Mastro's unique guitar interplay and the locked-in rhythm section of Heinemann and Pantozzi.
Hey Kid follows the band's debut album Songs for the Dead (2013) and the EP The Stars Will Bring You Home (2016). More than in her previous work, the new songs were inspired by current events. Kuhl explains, "I wrote "Hey Kid" and the other three songs on the EP after the last presidential election. Around that time, I found an old college ID card from the '80s and couldn't believe the strong and innocent energy beaming from my face! I had been feeling beaten down after the election. Seeing that photo, marching with the young and old against the current administration, inspired this song as a call to bring together youthful exuberance and resilience with the depth of maturity and experience. The music and lyrics poured out!"
The EP also includes the stripped-down, swampy "Strong Woman Blues," about overcoming inner and outer obstacles to owning your power, and "The Wheels," where psychedelic jazz explodes into noise punk, taking a ride through the gentrification and homogenization of our cities, bodies, and minds. It all culminates in the scorching track "It's Over," the centerpiece of the EP. Kuhl calls out the U.S. President, the patriarchy, the bigots and haters, explaining that their time is done. "The end is near and it's what you fear," she taunts them in the lyrics. "The future is female, black, and queer!" It's a rocking rallying anthem for the resistance.
Hey Kid will be available for download May 3 at Kuhl's Bandcamp and on all streaming platforms to follow.