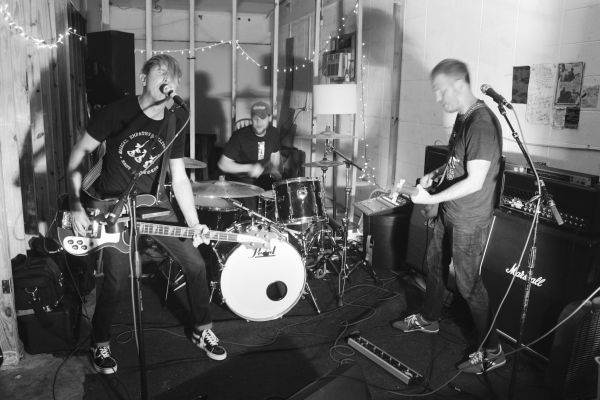 4 February 2019
Secret Smoker – Photo courtesy of Secret Smoker
Baton Rouge, Louisiana's post-hardcore/post-punk band Secret Smoker are on the rise with the release of their second album, Dark Clouds, on February 14th via Belladonna Records.
Dark Clouds follows up Secret Smoker's 2013 debut LP Terminal Architecture and continues the theme of raging revivalist hardcore. The record also exhibits the band's progression to a more urgent, expressive, and angry sound
The powerful trio features Billy Thompson on bass and vocals, Mark Waite on guitar and vocals, and Seth Martin on drums. These three are intent upon driving home passionate, forceful, and rhythmic hardcore. If you like your music rife with dynamic movement and meaning, dig in with relish.
Belladonna Records is a label that launched in the '90s, releasing punk records from bands such as Palatka, Don Martin 3, I Hate Myself, Assholeparade, and others. Recent releases include Die Hoffnung's Elegy and Creation Songs and BiteMarks Sucia" 12.
The Big Takeover is psyched to host the premiere of the lean and hungry "Memo", which crashes through with kinetically choppy drumwork, smashed cymbals, sharply cycling guitar lines, and pressing, end-of-tether shouted out vocals.
Pre-Order Dark Clouds at Belladonna Records
The album will be available on vinyl and digital formats on February 15th through Belladonna Records.
UPCOMING TOUR DATES:
March 3rd Baton Rouge, LA at Midcity Ballroom
March 23rd Gainesville, FL at TBA w/ Bite Marks
comments powered by