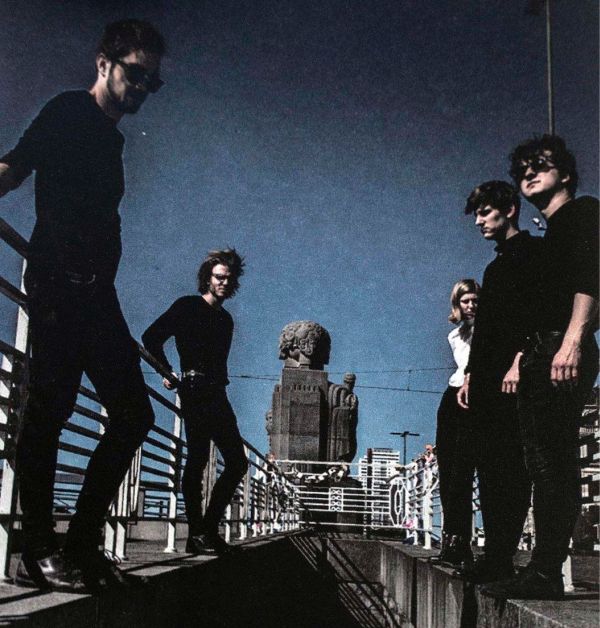 16 October 2018
Whispering Sons – Photo Credit: Flor Maesen
There are few labels in the world that produce such a steady stream of great post-punk releases as LA-based Cleopatra Records, with the latest offerings including such brilliant artists as Germany's rising post-punk shoegaze stars HOLYGRAM, Finnish post-punk pioneers Musta Paraati, and Poptone, the new trio founded by Kevin Haskins and Daniel Ash of Bauhaus, Love and Rockets, and Tones on Tail.
Today The Big Takeover presents you the premiere of "Stalemate" by Belgian band Whispering Sons, also from Cleopatra's roster, ahead of releasing their long-awaited debut album Image this coming Friday. While the album as a whole is stunning and definitely one for the serious post-punk fan, there are also elements of darkwave, shoegaze, and alternative rock. The band also just finished up a tour of Spain and Portugal with The Soft Moon.
Comprised of ten tracks, this album will be available on CD and digitally via Cleopatra Records. and is sure to be appreciated by fans of ACTORS, Eagulls, Interpol, The Damned, Joy Division, Then Comes Silence, Ritual Howl, Second Still, In Letter Form, and Sextiles. This music is dark, but not overbearing – It goes to all those places within yourself that you want to go, but where you can barely imagine the landscape you needed upon getting there. In short, a dark beautiful fantasy with a remarkable silver lining.
The Image LP is the first major release for this Brussels-based outfit since their Endless Party EP in 2015. This new release represents what the band describes as a "giant leap forward." Together with producer Micha Volders and engineer/co-producer Bert Vliegen, the band used their time in the studio as a means to broaden their sound, enriching it with acoustic drums and a whole range of synthesizers.
This album, recorded over a period of ten days at Beligum's GAM Studios evokes an atmosphere that is edgy and nervous, while capturing the strange intensity the band has become known for. Mixed by Bert Libeert (Goose, B, Raving George – Charlotte de Witte) at Jetson Studio and mastered by Frederik Dejongh (Hooverphonic) at Jerboa Mastering, this work is tinged with angst and isolation. Lyrically these songs stem from alienation, distance, and inertia.
The songs on Image were written after relocating to Brussels in 2016. Between intense touring, they channeled their new ideas into the music found on this album. Feeding on the dynamics of the city, the tracks unveil feelings of alienation and distance. Image is a motionless state, in which observations overshadow actions. It reflects the artificiality of things, yet still desperately clings on to ideals and obsessions, something which is also strengthened by the cover artwork, created of Flor Maesen.
Whispering Sons won Belgium's prestigious Rock Rally in 2016, the same national contest that launched the career of dEUS. Since then they released several 7 inches – "Performance"/"Strange Identities" (2016) and "White Noise" (2017), and the Endless Party EP. Touring extensively in Europe, they've developed a reputation for their animated performances.
The Image LP releases everywhere on Friday, October 19th, but it can already be ordered via Cleopatra Records and digitally via Bandcamp.
Whispering Sons will soon open for alternative rock legends Gang of Four on tour, and then headline a series of European live dates in November in support of this album. But you can also view one of their concerts live in real time this coming Saturday at 8pm Belgian time / 2pm Eastern time / 11am Pacific time. You can live stream the band's sold out at Brussels' Ancienne Belgique HERE or watch directly on Facebook HERE
TRACK LIST
1. Stalemate
2. Got A Light
3. Alone
4. Skin
5. No Time
6. Fragments
7. Hollow
8. Waste
9. Dense
10. No Image
TOUR DATES
Oct. 19 Rotterdam, Netherlands – Left of the Dial Festival
Oct. 20 Brussels, Belgium – Ancienne Belgique
Oct. 22 Eindhoven, Netherlands – Dutch Design Week
Oct. 24 Kortrijk, Belgium – De Kreun (with Gang of Four)
Oct. 25 Den Haag, Netherlands – Paard van Troje (with Gang of Four)
Oct. 31 Amsterdam, Netherlands – Sugarfactory
Nov. 2 Berlin, Germany – Bi Nuu
Nov. 3 Bochum, Germany – Kulturbahnhof
Nov. 9 Cologne, Germany – Gebaüde 9
Nov. 10 Namur, Belgium – Belvédère
Nov. 21 Paris, France – Olympic Café
Nov. 24 Turin, Italy – Padiglione 14
Nov. 25 Vignola, Italy – Circolo Arci Ribalta
Nov. 27 Budapest, Hungary – Dürer Kert
Nov. 29 Prague, Czech Republic – Meetfactory
Dec. 1 Genk, Belgium – Sinner's Day Festival (Limburghal)
Dec. 8 Turnhout, Belgium – Kuub
Dec. 14 Gent, Belgium – De Centrale
Jan. 18 Hannover, Germany – LUX
Jan. 19 Hamburg, Germany – Das Bett
Jan. 25 Hamburg, Germany – Hafenklang
Jan. 26 Leipzig, Germany – Moritzbastei
Feb. 2 Hasselt, Belgium – Muziekodroom
Mar. 29 Leicester, UK – Darker Days 2019
We also recommend you check out two other videos for tracks on this album
WHISPERING SONS
Website
Facebook
Bandcamp
Twitter
Instagram
YouTube
SoundCloud
Spotify
iTunes
Deezer