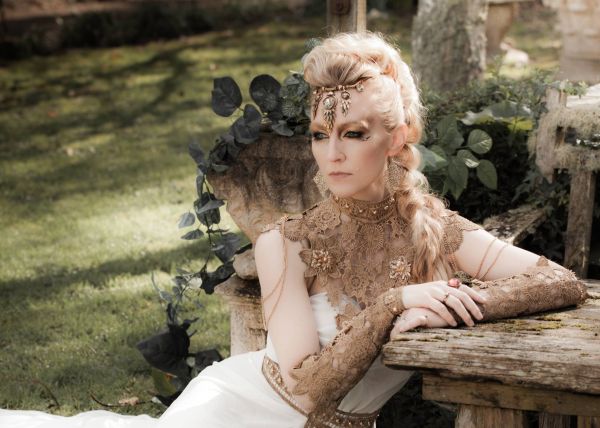 4 December 2018
Parabola West – Photo Credit: Vanessa Wood
Today's clip trip at The Big Takeover takes us all to New Zealand – not just to any part of Aotearoa, but to the very thick greened forests of the kind filmed in such productions as The Hobbit and Lord of the Rings. Lush, moss-covered, old growth – the stuff of dreams and fantasy, fittingly so in relation to the video premiering today for Parabola West's new single "Calling Your Name".
Parabola West is the solo moniker of New Zealand-based American singer and songwriter Amy Tucker West. Drawing inspiration from Celtic and Nordic folk roots, electronica, and organic sounds (not to mention the whole world of fantasy, aesthetically speaking), West's music is a dense soundscape of layered melodies with a sound that brings her into similar territory occupied by such artists as CHVRCHES, Eivør, Lu Flur, Bat For Lashes, or Sjón, with perhaps a bit of Aurora here too.
"Calling Your Name" is a heartfelt track of longing, expressed well by the protagonist with a wistful delivery. This could serve as a foreboding tale for anyone addicted to a bad relationship with an inaccessible heart. The video underlines this idea. Through her music, imagery, and videos, Parabola West is certainly a master at evoking intrigue and the hunger for fantasy and mystery within all of us.
"We wanted to create a curious, beautiful, and dark fairytale feeling with the video. The goal was to make it feel both otherworldly and relatable – to express the isolation, hope, and madness of holding an unreachable heart," says Parabola West. "Here's a fun fact for you. That is, in fact, an actual heart in the jar. Art Director Felicity Cawood procured it and kept it on ice until we shot and was off-screen 'pumping' it in the jar. As it thawed, it became quite the pungent co-star."
And two interesting pieces of music trivia here: First, this song was recorded at 432Hz instead of the standard 440Hz due to Parabola West's experimentation with healing frequencies in her music. Second, this track was produced and mixed by Andrew Newth and Scott Newth, who are known for their work with the likes of The Datsuns and System Corporation, among others.
Originally from Springfield, MA (near Boston) on the U.S. east coast and currently based in Raglan, New Zealand, West began songwriting on piano as a teenager and, at age 21, she was recruited into the London-based trip-hop band Dreamfield during their recording sessions in Boston. With two critically acclaimed releases to their credit, the band split in 2003 and West relocated to New Zealand.
The self-confessed "math and science nerd" then took a 10-year break from the music industry to work in IT and engineering recruitment, returning to her musical roots in 2013 as solo artist Parabola West.
"I came to a point where I needed to fully immerse myself again in the creative," says Amy Tucker West. To achieve that she took the extreme step of moving completely off-the-grid to a rural spot on New Zealand's rugged West Coast. West has since released two successful EPs and continues to call Raglan home.
""Calling Your Name" expresses the torment of loving someone who has become emotionally numb. Ask anyone on a significant dose of anti-depressants and they'll tell you about the numbing – that slow, subtle nothingness that keeps life ticking over without incident but turns down all the color," says West.
"The lyrics "you are a wilderness frozen from me" kind of sum up the bad times, when you just can't reach the heart until the ice melts."
This new release follows up Parabola West's 2017 EP Purity of Weakness and lead single "Fire", which was released both digitally and on CD. Her debut EP Did You Hear? was released in 2014. Often piano-driven, her music is laced with hints of Celtic and Scandinavian influences and a dash of fantasy.
On December 6th, "Calling Your Name" will be released via online stores and streaming platforms, such as Spotify. In the meantime, releases from West's back catalogue are now available via Bandcamp
CREDITS
Written and performed by Amy Tucker West
Produced by Andrew Newth, Scott Newth, and Parabola West
Mixed by Andrew Newth and Scott Newth
Recorded in The Porch recording studio in Hamilton and various home studios
Mastered by Oliver Harmer at The Lab recording studio in Auckland
Main vocals and keys by Parabola West
Backing vocals by David West
Flute by Alexandra Slap
Video by Bigkid Productions
Directed by Chris Lane
Art director: Felicity Cawood
Also enjoy her previous video for "Fire", lifted from her Purity of Weakness EP:
Parabola West
Website
Facebook
YouTube
Twitter
Instagram
Bandcamp
Spotify
comments powered by