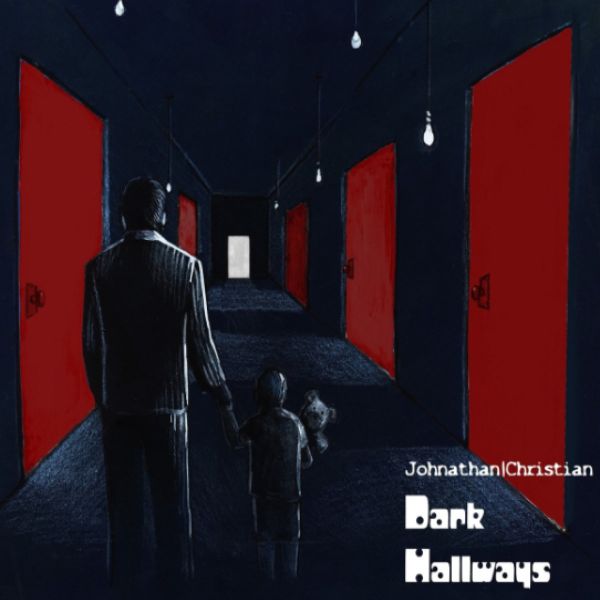 30 July 2019
Johnathan/Christian – Dark Hallways – Artwork Credit: Alex McVey
L.A.-based darkwave/post-punk project Johnathan/Christian is comprised of musicians Christian Granquist, Johnathan Mooney, and Tiger Koehn. Granquist was also in pop act Day Behavior and is the keyboardist for the electronic band The Atom. Mooney and Koehn are members of the New York-based goth outfit The New Creatures. As Johnathan/Christian, they released their atmospheric third album, Dark Hallways, this past May.
Johnathan/Christian are unveiling their new video for "Clearer", a foreboding track off Dark Hallways. The Big Takeover is pleased to host the culturally relevant video in all its noir and timely import. It was produced by South African multi-media artist Nick van Dyk,
Footage and still images of real-life religious figures, like fallen-from-grace televangelists and pedophile priests, alternate with clips from the film classic Elmer Gantry, about a charismatic, but corrupt religious huckster. The visuals are powerful and paint a portrait of modern religion gone astray due to the amoral behavior of those in power.
The old-school gothic "Clearer" takes a look at trying to answer unanswerable questions by a person's faith. Van Dyk elaborates on this concept, explaining, "I had an idea to follow the themes of conspiracy and transition that into religion but I also wanted it to become a contradiction in themes to the point of a sense of disturbance. As it draws to a close I wanted to show that personal enlightenment comes from within."
And those darker themes definitely hit home for Mooney, who spent a part of his formative years at an all-boy's Catholic school. "That was a traumatic time for me," he says. "Needless to say, I wasn't surprised when I looked up some names of former teachers on the New Jersey Catholic dioceses' web-site list of priests and deacons who have been credibly accused of sexually abusing children over decades."
Swedish vocalist Granquist chimes in, "I "think" the lyrics are about the paradox of punishment within religion. If "GOD" (or other religious symbol) is almighty and makes the final judgement, why the history of punishment for religious purposes? Who earns this right?"
Granquist continues, "Fun story: when I was 4 years old we moved to NY from Sweden. Naturally I knew no English. I was placed (for practical reasons not religious) in a kindergarten with religious, possibly Catholic, style. So first day, there was a Mass, where they repeatedly spoke of Christian values. Remember, I knew no English. Only my name. Christian! I thought they were talking about me, maybe welcoming me. So I stood up in Church and shouted Christian, that's me!!! I was locked up in a closet the rest of the day."