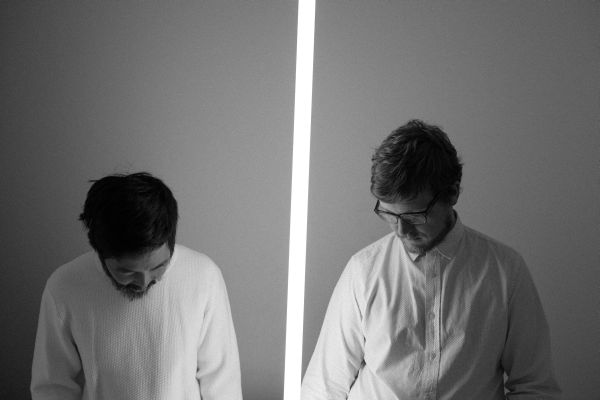 13 November 2018
Live Footage – Photo Credit: Charles Billot
New York City label Ephemeral Arts has partnered with Greenpoint, Brooklyn's Live Footage for the avant-electronic duo's 8th release, Two Bedroom Flat. The record is a guided tour of experimental electro taking the listener across moods and scenes by creating aural landscapes of building beats and amorphous atmospheres and delving into unexplored sonic spaces.
Cellist Topu Lyo and drummer/keyboardist Mike Thies produce improvisational, cinematic mini-soundtracks constructed from loops, samples, tape manipulations, and synthesizer treatments that lie somewhere at the crossroads between Eno, Morricone, and Carpenter.
NYC-based artist Melissa Godoy Nieto has directed and produced the video for first single "Dreamt", which The Big Takeover is delighted to premiere here. The track is a gently staticky and eerie downtempo soundscape filled with hypnotic windswept loops, dawning keyboard notes, and wordless, ghostly vocal emanations.
Nieto adds another subdued and spectral layer to the mesmerizing song, featuring slowly morphing, muted-color images of seeping paints on a parchment base, as well her hand and brush gliding through wavy designs and a final box-maze picture.
"Dreamt" provides a meditative setting that would not be unfamiliar in mood to the pair's weekly late night Sunday residency at underground lounge Apotheke, deep in New York City's Chinatown.
On Two Bedroom Flat, guest collaborator songwriter Mckenzie Frye provides an unexpectedly soothing urban voice among the minimalist beats and filter sweeps of "Fake Times". The slightly sinister twist of "Gold Pot" could be the soundtrack to an urgent and propulsive dark trip around some unfamiliar alien cityscape.
"Green Key" drapes the listener with an almost gospel vocal sample spilling across a jazzy backbeat and an otherworldly atmosphere looping that seems to slow time when realizing the listener has been transported to some physical place other in less than 3 minutes.
"Rachel" and "Who We Are in the World" are soundtracks that could create a film, providing visual cues through sound that would easily fit with an '80s futurist flick or just as easily setting the stage for an ad campaign as the duo has frequently been employed for in the past.
According to Thies, the pair, "experimented heavily with analogue tape manipulation and synthesizer processing in uncommon ways", which makes the distinction between live performances and synthesized looping almost indistinguishable.
Two Bedroom Flat is officially released today, November 13th through Ephemeral Arts and will be available via all streaming services. Live Footage performs every Sunday night at Apotheke in NYC, and additional live performances will be planned for winter 2018/2019.
Live Footage Website
Ephemeral Arts Website
comments powered by