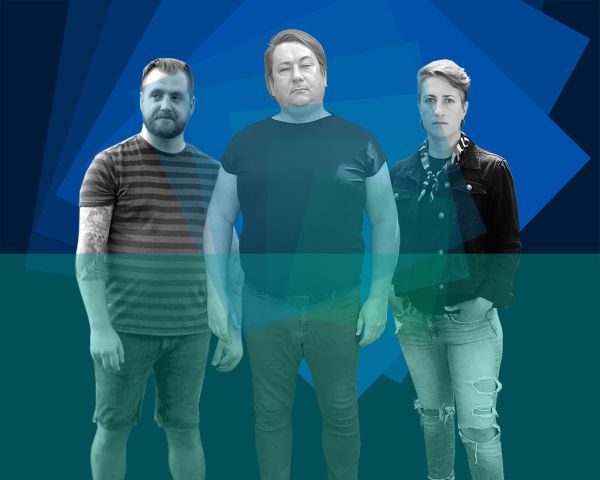 13 October 2020
Gibraltar – Photo Credit: Holly Waits
Seattle-located post-rock stalwarts Gibraltar will be releasing a new album called Modern Mischief in February of next year.
Founding member Aaron Starkey is joined by pianist Holly Houser, drummer Nick Biscardi, and horn players Sari Breznau on trumpet, and Nate Henry on tenor sax.
For those who crave the sonic release of nuanced lyrics set to robust dynamics, look no further. Influenced by rock's most creative outbursts – '70s hard rock, '80s punk/New Wave, and '90s alternative music – Gibraltar makes a feel-good formula sound new again.
Angular guitars buzz, Nicky Hopkins-like piano chimes, and yearning vocal melodies amp tension while encouraging anthemic sing-alongs. The sound that fills room of all sizes with tunes that are vibrant and moody, and laden with memorable hooks.
Big Takeover is pleased to host the premiere of the performance music video for one such track, the rousing "O Devilish Sailor" that sounds like it came out of the roiling indie rock '90s, but with added ringing piano notes and vivid horn blasts.
A ranging bass line gives the song a darker dimension, while chugging guitar fuzz and emphatic drum smack pushes the track along. Passionate vocals course like life blood through the already-animated track.
The band delivers an equally energetic and heartfelt performance in the video that's also immersed in fast-flying designs of various shapes and colors, with a wide-open, all-seeing eye a continuing motif.
Starkey sheds some light on the song, explaining, "Lyrically, ["O Devilish Sailor"] is about feeling powerless with the decisions that our bodies make for us. I tried to, lyrically, have a conversation about the frustrations I have with my own body. The generation of the song though, musically, came from a challenge that Nick put forth to me about writing song ideas at home versus jamming in the rehearsal room."
"My approach had always been to just get in a room and sweat it out, and he (strongly) suggested that I play around with ideas and structures on my own… and so the gauntlet was thrown and I dug in over a weekend and tried to compose more of the concept. What we ended up recording became far more than my modest home recording attempt, but I'm grateful for finally getting past the hurdle of how I'd been writing up to that point."
"The video, created and crafted by Nick, is built around tension and urgency and powerlessness that leads towards catharsis. Which to me, is the most human expression of desire for change and hope."