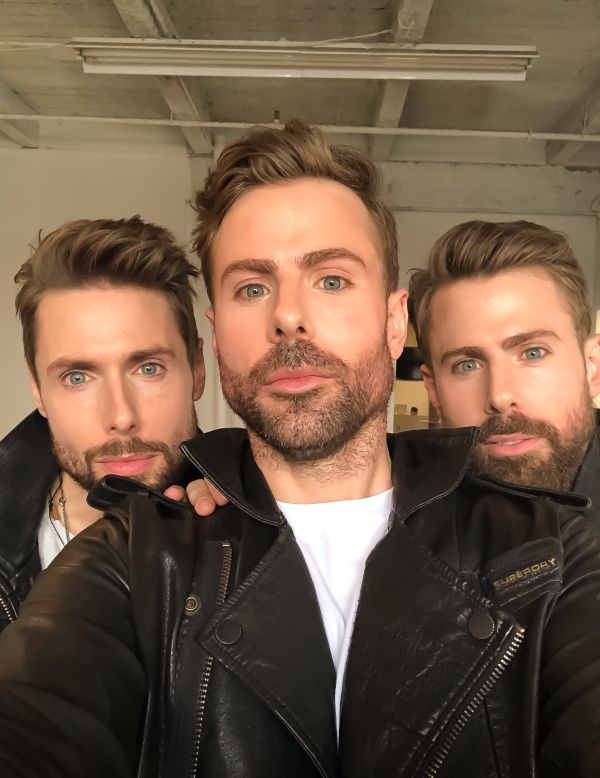 3 May 2019
Council – Photo courtesy of Council
Manhattan-based brothers Pat, Doug, and Andy Reeves make rousing, arena-sized indie pop/rock as Council. With Pat on lead vocals, bass, and keyboards, Andy on guitar and backing vocals, and Doug on drums and backing vocals, they released their debut EP, Rust to Gold, in November 2016.
The inspirational title track found an international audience after it was featured on a number of streaming site-curated playlists. Council signed with Five Seven Music in late 2017, and by early 2018, the song had been licensed by European football leagues including England's Premier League, and by NBC for the 2018 Winter Olympics in Pyeongchang, South Korea, where it was used in the opening ceremonies.
The Big Takeover is highly excited to be hosting the premiere of the official video for "Rust to Gold." The video showcases the brothers delivering a rousing performance of the anthemic track.Under the dazzle of brilliant white lighting and blue-tone, saturated shadows the brothers perform with a determined passion.
Doug pounds on the drums with fervor and Andy strikes his guitar strings with intensity while Pat sings triumphantly, "All the dreams / from rust to gold / We will never / let them beat us." At the end of the video, the white and blue hues change to blazing red, shining green, and finally, a golden yellow.
The brothers were Inspired to start their band a few years ago when watching a rerun of VH1's Behind the Music about Oasis (they related to the Gallagher brothers' persistent arguing). They made the collective decision to drop out of college and form Council together. The Reeves returned home to the village of Baldwinsville, New York and spent their days working on their uncles' farm to earn money to pay for instruments.
Once they had something to play on, they spent their nights practicing and working on songs. After putting in time on the road, they made the leap from the barn to EastWest Studios in Hollywood, where they recorded Rust to Gold with Grammy-nominated producer Justin Gray.
The band of brothers give some insightful details about the backstory of track, revealing, ""Rust to Gold" has reached places we didn't think it could go. It actually started as a song called "No Ceiling." We had been crammed into a one bedroom in NYC a year into our move from our hometown. We wanted to convey a message that we wouldn't accept any limits on success we could achieve. Being in NY we already had experienced rejection and we thought there can't be a ceiling to our ambitions. No one has lived our life so they don't know what we are capable of. The verse pretty much remained the same in both songs with some cuts, but when Andy started humming, the chorus really took shape. Once the chorus melody was there, it evolved into a more universal feel and we let the song lead us. "No Ceiling" was a personal statement, but "Rust to Gold" was universal – something everyone could relate to."
They also illuminate their future plans, commenting, "We are opening for The Strumbellas in Syracuse, NY in June and doing a special busking pop-up tour in NYC that will be sponsored by BOSE. It's a unique idea of showing up to different subway stations and parks and playing a stripped-down Council show. So keep an eye out for us if you're in the city. Lastly, we are releasing new music in June and can't wait for everyone to hear what we've been writing."
Facebook
Instagram
YouTube
Website