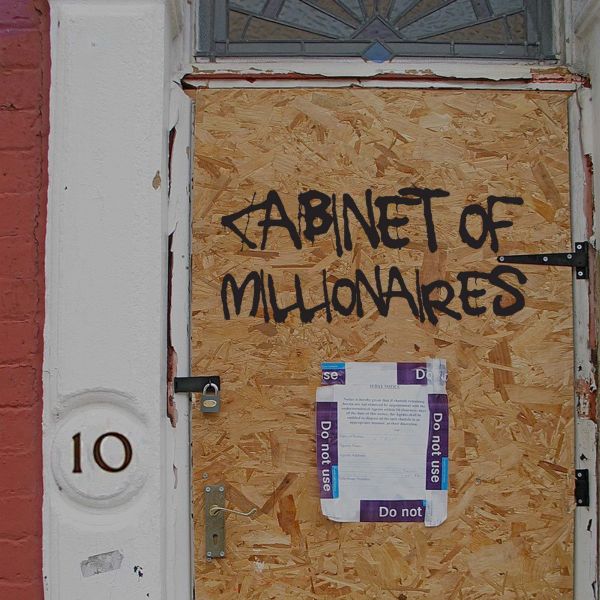 12 November 2019
"Stop The Coup" by Cabinet of Millionaires Vs. Zion Train – Photo Credit:Pat Fulgoni
Politicians: they come and they go with policies that change like the wind. Sometimes, however, the politicians leave their mark, for better or, as of late, for the worse, on the country they represented. In Britain now it's been the changing of the guard for the seat of Prime Minister, with Theresa May on the outs and Boris Johnson charging in.
It's no wonder that political activism in the music scene has been growing recently. At the forefront of this movement is electronic collective Cabinet of Millionaires who present their new single "Stop The Coup'" here today. We earlier introduced you to their timely protest music during the reign of Theresa May with a video premiere .
Cabinet of Millionaires have now returned with this single, which is part of a three-track Stop The Coup EP, well timed for viral emission in the lead-up to the British election on December 12, releasing this anti-Boris anthem on December 6 through Chocolate Fireguard Music. The video features stunning artwork from Oliver Lancaster Smith. This single also features vocals by Pat Fulgoni.
The 'Stop The Coup' single slaps down Prime Minister Boris Johnson's campaign for reelection. The original mix is known as the 'Pfeffel Mix', involving a collaboration with John Peel's favourite dub act Zion Train. This funky dub groove mixes with pure old school sermon soul with verses, questioning the PM for "playing the fool" (while making all the rules) and laughing, joking in interviews while poor families suffer.
One of the most unique and enjoyable live dub acts on the planet, Zion Train have headlined events from Glastonbury to Tokyo from San Francisco to Moscow. They've even won a Jamaican Grammy for production. 30 years into the game, they have a new album coming out in 2020.
Cabinet of Millionaires have a record of cutting edge electronic protest music behind them and a political blog with over 30,000 followers. The last four Cabinet of Millionaires singles, including 'Theresa, Vol. 3', were released alongside superb remix packages from some pretty amazing producers but this is CoM's first actual artist collaboration.
CoM attacks the austerity policies of the UK's Conservative Party government, referencing the Windrush scandal, the Grenfell Tower tragedy, and failure to take in enough refugees (whilst selling arms), not to mention the dismantling of the country's National Health Service.
"Zion Train are festival legends. Loved their remix of our last single 'Theresa', which was praised in the media, on radio and sounded great wafting out of a PA prior to speeches outside Downing St. So for this single, we jumped at the idea of collaborating on an original number rather than keeping it in house. A rousing chorus from our mate Pat and a superb dub treatment from Zion Train's dub bunker, I'm really happy with how this one's turned out," says CoM's Dave C.
There are also two remixes of 'Stop The Coup' on this latest single. Bristol-based Acid House Therapy's remix abducts you to a rave tent some place in outer space. AHT is an evolving project aimed at bringing people together where music and sounds are the connective tissue based around the improvised mix of analog synths and sequencers. It's a banging live set and unique forward-thinking experience. Class AAA vibes macro or microdose the mind, body and soul, beyond the 123 bpm realm with this heavy stepper.
Mikk Stupp – a club night promoter, dj, and producer from Leeds – also serves up a tough block-rocking but quirky Miami drum and bass interpretation. Mikk has been performing and composing music for 40 years, including with Ukrainian biker rock band Death Valley Screamers (DVS) with Sean Carr, playing mass public celebrations and presenting the radio show 'A Drink, a Smoke, a Laugh and a Joke!'
As of December 6, 'Stop The Coup' will be available for digital download across online stores and streaming platforms. It can already be pre-ordered, with automatic download of the title track, via Bandcamp.
On November 30, 2019, Zion Train will join Cabinet Of Millionaires in a fantastic line-up for Love Music Hate Racism at Small Seeds in Huddersfield. This event involves various bands, soundsystems, DJs, speakers and live art. Doors 7.30 pm. Cover £6/£5. More info can be obtained HERE
Also check out a few of their previous singles:
CABINET OF MILLIONAIRES
YouTube
SoundCloud
Bandcamp
Facebook
Instagram
iTunes
Spotify
ZION TRAIN
Facebook
Instagram
Twitter
SoundCloud