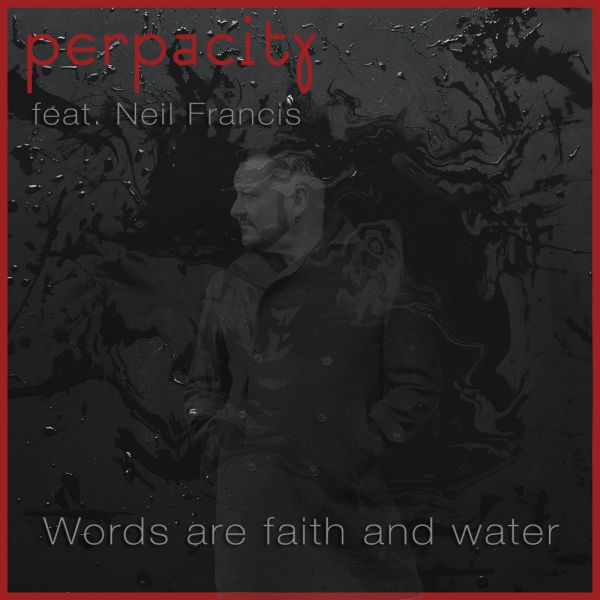 4 December 2018
Cover Art Credit: Janne von Kiaer
Hard on the heels of their latest album release The order of Now in September, electronic duo Perpacity take another musical turn with their latest single release, teaming up with vocalist/radio DJ Neil Francis for a soaring ballad that wouldn't be out of place in a London musical.
"Words are Faith and Water" is a poignant, hopeful track about trust and coming to terms with loneliness that, although as much orchestral as electro, still retains the quirky catchiness that the duo has been associated with on other releases. Neil's vocals are powerful and emotional throughout, creating a rich interplay with the music taking the sound of the band in new directions.
In 2014 a video of Neil's impromptu London underground singalong of '80s hit "A Little Respect" caught the attention of the world's media and scored a viral hit across the internet with over 40 million views and counting! This led to him being invited to perform at pop duo Erasure's 30th anniversary party where he was surprised to be joined on stage by Erasure front man Andy Bell to duet with Neil on "A Little Respect".
Martin Nyrup of Perpacity explains why they reached out to Neil for their track "Words are Faith and Water": "We knew of Neil's work in the music scene and had obviously seen the London video, and I think he stuck in the back of our minds for some time as someone we would like to work with. We'd written "Words are Faith and Water" last year, but knew that it would take a special kind of voice to do it the way that it was meant to be – and eventually realized that Neil was one of the few that would be able to pull it off."
Ian Harling of Perpacity goes into the creative process behind the song, commenting, "We try to avoid getting ourselves stuck in one genre or sound, so every new track is an exploration in terms of production, but we're very pleased with the way it's turned out. It's good for us to work with other people who can bring their own style and ideas to our tracks. It helps us grow musically."
Neil Francis provides details about how his involvement with Perpacity for "Words are Faith and Water" came to be: "I was delighted when Perpacity asked if I'd like to add my vocals to a song they had written with me in mind and headed to the studio with my producer Day Clifford (Daysound) to experiment on finding the right voice for this rather wonderful composition. I was no stranger to Perpacity's music and would often play them on my radio show, so was eager to do my best on this song. It's been wonderful to collaborate with both Martin and Ian, throwing idea's back and forth over the internet and working with Day on the video, seeing it all come together has been a great experience. I am immensely happy and proud with the finished product – both song and video – and I really hope you enjoy the joint efforts of Ian, Martin, Day, and myself."
"Words are Faith and Water" will be released on December 7th and The Big Takeover is quite pleased to host the video premiere of the beautiful and heartfelt song, which features Neil's compelling, nuanced, and uplifting vocals (as well as himself in the video) front and center:
PERPACITY
Website
Twitter
Facebook
Instagram
SoundCloud
Bandcamp
YouTube
NEIL FRANCIS
Website
Twitter
Facebook
Instagram
SoundCloud
Bandcamp
YouTube
comments powered by