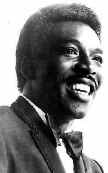 31 January 2006
As much as I love my WILSON PICKETT greatest hits CD (and before that the double-LP hits set), that's all I've got. That's no putdown of Pickett: He was a force of nature, the epitome of the manly soul singer. He was inducted into the Rock & Roll Hall of Fame in 1991 and got a Pioneer award from the Rhythm and Blues Foundation in '93. There's no questioning his place in the soul pantheon. I'm just saying that I don't feel qualified to eulogize him.
But if there's anyone who is qualified, it's AHMET ERTEGUN, Founding Chairman of Atlantic Records, who made the following statement after Pickett died of a heart attack on January 19 at the age of 64: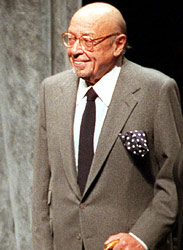 When my partner JERRY WEXLER signed Wilson Pickett to Atlantic in late 1964, it would prove to be a defining moment in the birth of Southern Soul music. In 1965, Jerry brought Wilson to the Stax studio in Memphis, where he cut a string of groundbreaking tracks, highlighted by the revolutionary "In the Midnight Hour"—which influenced countless artists and records in its wake. Moving to Muscle Shoals, Alabama the following year, Wilson made such timeless classics as "Land Of 1000 Dances," "Mustang Sally," and "Funky Broadway."
Like all of the greatest soul artists, Wilson first made his mark as a gospel singer before crossing into secular music. He sang with a religious fervor that was truly inspired, combined with a raw energy and unbridled passion that has never been equaled. "Wicked" Pickett, as he became known, had the rare gift of being able to put on record what he put out live, and we at Atlantic were truly blessed to have been there to capture him in all his explosive glory. Wilson was a volatile character with a heart of gold, and above all, a true original and pioneer. His music will forever be an essential part of the legacy of our company and of the history of American music.
The Wikipedia entry for Pickett is excellent, full of pungent details. You don't need me to tell you about Pickett; he was so loved, idolized, and influential, and his music so woven into the fabric of American culture, that his story is out there already. He is one of the immortals of music.
comments powered by