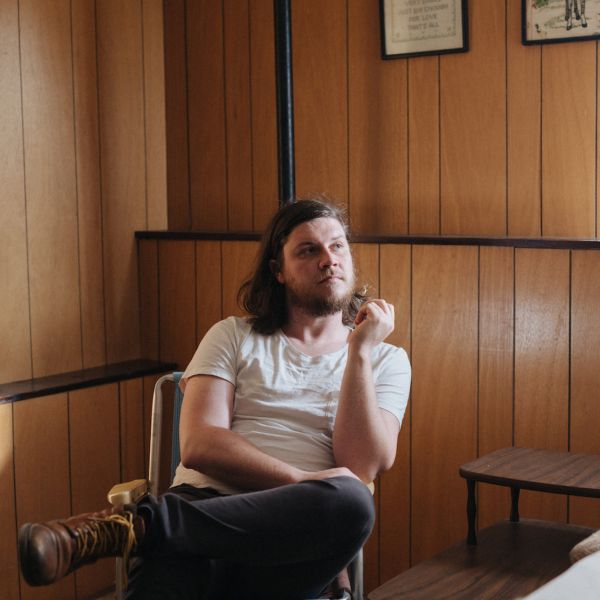 22 September 2017
Jordan Klassen; Photo Credit: Elissa Crowe
Jordan Klassen is thrilled to give you a first listen to his new album Big Intruder, that is out now via Nevado Music.
Big Intruder is an album about growing up and making adult decisions. The eleven tracks, which Klassen wrote, recorded, and produced himself, venture away from the whimsical soundscapes of his past work and exude themes of growth and maturity, both in lyrics and sound. Klassen previously strove for a cinematic sound, avoiding drum kits, but tried to embrace the idea of a 'band' on this record. Big Intruder speaks to the dilemma of the overwhelming array of choices available in life, and the doubt and caution that become excuses to avoid commitment. The resulting songs are intimate and personal, guided by a sense of honesty and vulnerability.
Klassen is a talented multi-instrumentalist and singer-songwriter. On Big Intruder he creates highly engaging, gently bittersweet to hopeful, melodic compositions that roll along with a mellow, retro flow and reflective, perceptive, and reminiscing lyrics. His mild, but plaintive, mid-range to delicately and airily yearning vocals grace each varied track as he moves from heartfelt acoustic folk to richly symphonic chamber pop and peppy indie pop (sometimes with a touch of poignant piano notes or rock guitar sizzle).
Big Intruder is available today at iTunes
In support of the new album, Klassen will touring this fall starting with a full European tour and select festival dates. North American dates to be announced soon.
Jordan Klassen is a decorated songwriter in his own right who has spent more than a decade quietly crafting music that has been deemed "unsentimentally sincere" and "whimsically hopeful". He recently released his EP, Curses, which was an assembly of brooding pop songs that continues the exploration of mental illness and hushed vulnerability, which marked his 2016 LP, Javelin. Writing about his life experiences is one of the essential elements in Klassen's creative process – particularly events that he had deemed as his failures.
European Tour Dates
September 23 – Hamburg, DE – Reeperbahan Festival
September 28 – Vienna, AU – Waves Vienna
September 30 – Amsterdam, NL – 7 Layers Festival
October 1 – Gothenburg, SE – Pustervik
October 2- Stockholm, SE – Brooklyn Bar
October 3 – Oslo, NO – John Dee
October 5 – Copenhagen, DK – Ideal Bar
October 7 – Leipzig, DE – Naumann's
October 8 – Berlin, DE – Lido
October 9 – Erlangen, DE – E-Werk
October 12 – Munich, DE – Strom
October 15 – Zurich, CH – Papiersaal
October 18 – Barcelona, ES – Antiga Fabrica Estrella Damm
October 21 – Paris, FR – Batofar
October 22 – Cologne, DE – YUCA
October 23 – Wiesbaden, DE – Schlacthof
October 24 – Munster, DE – Gleis 22
October 25 – Utrecht, NL – TivoliVredenburg
October 26 – Zwolle, NL – Hedon KZ
October 28 – Rotterdam, NL – V11
October 31 – Brighton, UK – The Hope & Ruin
November 1 – London, UK – Camden Assembly
November 2 – Bristol, UK – Louisiana
November 3 – Manchester, UK – Gullivers
Official SIte
Facebook
Twitter
Instagram
comments powered by