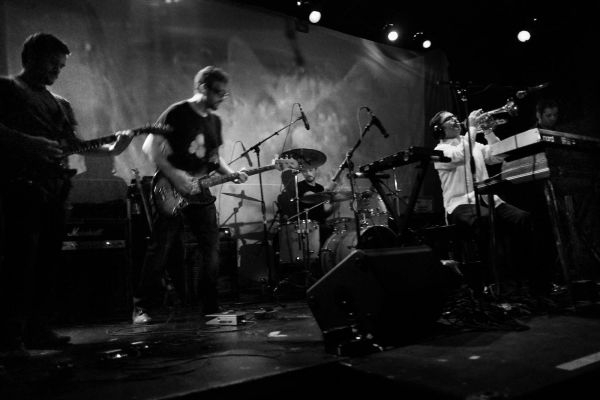 22 June 2018
Whale Fall live – Photo Credit: William Coker
Hailing from Los Angeles, California, Whale Fall is an instrumental group featuring traditional rock instrumentation infused with more pastoral strokes of piano, brass instruments, cello, and a touch of analog synth.
Whale Fall's self-titled debut record was written across several years and line-up changes. Released in 2011, the first album eventually became a favorite of music directors at NPR, who featured many of the tracks as interstitial music on the nationally syndicated "Morning Edition" program. The independently produced, self-released record was an expansive and wide-ranging double LP which established the band's sound as well as their dedicated fanbase. Tracks from the record, as well as a newer exclusive track, were featured in the award-winning 2013 documentary Code Black.
Their second release, The Madrean (an extended homage to the American Southwest which the band calls home) was heralded as a more developed, cohesive, and dynamic set of thematically related compositions with profound emotional resonance. The Madrean landed on several year-end "Best of 2014" lists and further solidified the band's reputation as well as its small but ardent cult following. The double LP vinyl edition features a stunning 12-page booklet of manipulated landscape photography which merges with the eight, often lengthy, interconnected tracks to evoke the story behind The Madrean.
For Whale Fall's latest self-produced release, Sondersongs, the band honed their focus down to ten tracks clocking in under 45 minutes — their first single LP. Although based in similar musical ground as the first two records, on Sondersongs the band is not afraid to bend the listener's ear more toward further genre references and nods to decades past, with individual tracks shifting seamlessly from plaintive piano pieces and chiming acoustic passages to shimmering dream pop guitar tones, more elaborate horn arrangements, and blaring rock anthems.
The concept of "sonder" comes from the Dictionary of Obscure Sorrows, which defines it as:
The realization that each random passerby is living a life as vivid and complex as your own — populated with their own ambitions, friends, routines, worries and inherited craziness — an epic story that continues invisibly around you like an anthill sprawling deep underground, with elaborate passageways to thousands of other lives that you'll never know existed, in which you might appear only once, as an extra sipping coffee in the background, as a blur of traffic passing on the highway, as a lighted window at dusk.
Sondersongs will soon be available on all relevant (and irrelevant) streaming services with the digital release slated for June 26, 2018. A striking (and limited) white vinyl edition and compact disc release will follow later in the year.
WHALE FALL PERSONNEL
Keyboards, Cornet, Glockenspiel, Melodica / J. Matt Greenberg
Electric & Acoustic Guitars / Ali Vazin
Electric & Acoustic Guitars / Dave Pomeranz
Drums & Percussion / Aaron Farinelli
Bass Guitar & Atmospherics / Erik Tokle
Website
Facebook
Twitter
Bandcamp
SoundCloud
comments powered by