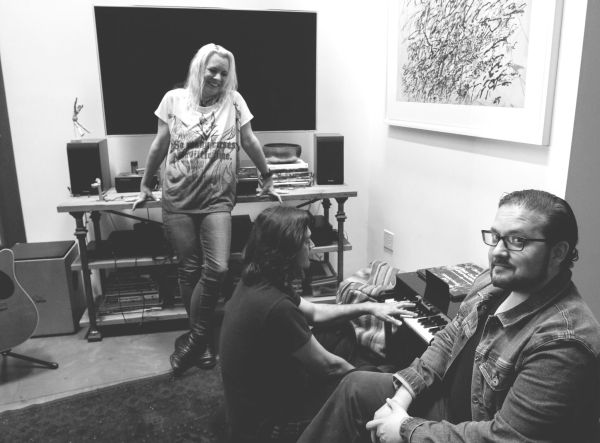 7 June 2018
Strange Culprits – Photo Credit: Angelina Salgado Loftin
The self-titled debut album from California's Strange Culprits, which arrives on June 8th, and that The Big Takeover premieres here, is made up of songs that strive to tell the truth about the human condition. Strange Culprits is stirring and heartfelt, composed of garage rock, Americana, pop, and soul, with something in the mix for everyone.
Hailing from the Bay Area, Strange Culprits came about when founding member Jason Buckingham (vocals, guitar) began searching for a bass player for his band. Multi-instrumentalist Sami always wanted to give it a go at playing bass. So, Jason bought Sami a bass and an amp, taught her to play, and off to the races they went.
Meanwhile, Jason met Tony Loftin (drums) and somehow convinced him the whole thing wouldn't turn out to be a total disaster. In their spare time, the three play interesting music together. Also, Jason and Sami are married to each other, so there's that. Together, the three of them are the eclectic trio known as Strange Culprits.
Jason Buckingham goes into the process of the band, explaining, "We work to sound like ourselves. We believe that our influences come through, but the "sound" of the band is a "Strange Culprits" sound…at least when we get it right. We believe that musicians are influenced by all the music they hear and remember, and over time, it filters its way into their own music. The hard part is developing a unique prism through which those influences take on a new and original form."
About the album, Jason Buckingham reveals, "As far as the overall tone of the album, wistful is how we would describe it: it's a smiling, "oh, it's too bad things didn't work out, but it'll be okay" sort of feel. If you've ever seen Lyle Lovett sing, the combination of that heartbreaking voice delivered with a genuine smile, that is our goal."
Pre-Order Strange Culprits at the links below:
iTunes
Amazon
Google Play Music
Website
Facebook
Instagram
Twitter
comments powered by