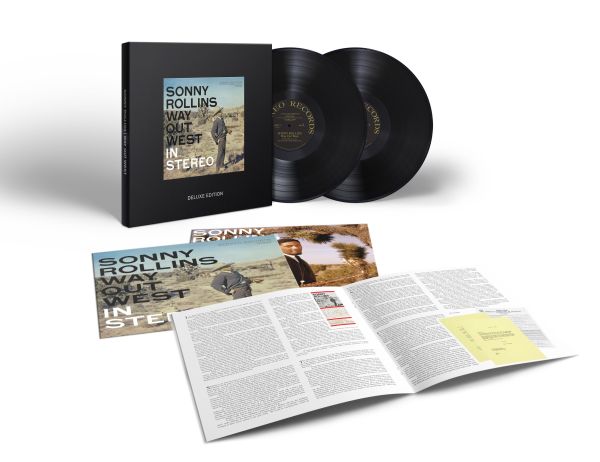 19 February 2018
On February 16th, Craft Recordings released a 2-LP deluxe edition of one of the most iconic and enduring records in jazz. Celebrating its 60th Anniversary in 2017, Way Out West, alongside Saxophone Colossus, cemented Sonny Rollins' place as one of the top tenor saxophonists of all-time.
This meticulously compiled package pays appropriate tribute to the importance of the landmark recording with an audiophile-quality pressing of the original album and a second LP of bonus material featuring rare and previously unreleased tracks from the legendary session. Both records are pressed at Quality Record Pressings (QRP) on 180-gram vinyl. Grammy Award-winning writer Neil Tesser contributes liner notes, which include excerpts from a recent interview he conducted with Rollins especially for this release. Rare photos by famed jazz photographer William Claxton round out the collection, which comes housed in a handsome hinged box.
Way Out West (Deluxe Edition) is also available at streaming outlets, mastered for iTunes, and in Hi-Res digital (96/24 and 192/24).
Track Listing:
Disc One – Original Way Out West Album
Side A
A1. I'm an Old Cowhand
A2. Solitude
A3. Come, Gone
Side B
B1. Wagon Wheels
B2. There Is No Greater Love
B3. Way Out West
Disc Two – Bonus Tracks from the Way Out West Recording Session
Side A
A1. Monologue: You Gotta Dig the Lyrics (previously unreleased)
A2. I'm An Old Cowhand (alternate version)
A3. Dialogue: Titling "Come, Gone" (previously unreleased)
A4. Come Gone (alternate version)
Side B
B1. There Is No Greater Love (alternate version, previously unreleased)
B2. Way Out West (take 1, previously unreleased)
B3. Way Out West (alternate version)
The Big Takeover is fortunate to have the stream of the alternate version of "There Is No Greater Love", which rounds out the 2-LP deluxe edition of Way Out West.
Theodore Walter Rollins was born on September 7, 1930 in New York City. He grew up in Harlem not far from the Savoy Ballroom, the Apollo Theatre, and the doorstep of his idol, Coleman Hawkins. After early discovery of Fats Walle*r and *Louis Armstrong, he started out on alto saxophone, inspired by Louis Jordan.
At the age of sixteen, he switched to tenor and fell under the spell of the musical revolution that surrounded him, Bebop. He began to follow Charlie Parker, and soon came under the wing of Thelonious Monk, who became his musical mentor and guru. Rollins quickly separated himself from the pack, working and recording with Babs Gonzales, J.J. Johnson, Bud Powell, and Miles Davis before he turned twenty.
Throughout his long and decorated career, Rollins released a series of landmark recordings, several of which would change the shape of jazz: "Valse Hot" introduced the practice, now common, of playing bop in 3/4 meter; "St. Thomas" initiated his explorations of calypso patterns; and "Blue 7" was hailed by Gunther Schuller as demonstrating a new manner of "thematic improvisation," in which the soloist develops motifs extracted from his theme.
Way Out West (1957), Rollins's first album using a trio of saxophone, double bass, and drums, offered a solution to his long-standing difficulties with incompatible pianists. During the years 1956 to 1958, Rollins was widely regarded as the most talented and innovative tenor saxophonist in jazz.
He has since gone on to win numerous awards, including his first performance Grammy for This Is What I Do (2000), and his second for 2004's Without a Song (The 9/11 Concert), in the Best Jazz Instrumental Solo category (for "Why Was I Born"). In addition, Sonny received a Lifetime Achievement Award from the National Academy of Recording Arts and Sciences in 2004.
His continued advocacy for jazz music has earned him recognition of the highest order throughout his exemplary career including, induction into the Academy of Achievement (2006), the Austrian Cross of Honor for Science and Art, First Class (2009), membership in the American Academy of Arts and Sciences (2010), the Edward MacDowell Medal (2010), and the Medal of Arts (2011), which was bestowed upon him by President Barack Obama in a White House ceremony. Rollins accepted the award, the nation's highest honor for artistic excellence, "on behalf of the gods of our music."
On December 3, 2011 Sonny Rollins received Kennedy Center honors, alongside actress Meryl Streep, singer Barbara Cook, singer/songwriter Neil Diamond, and cellist Yo-Yo Ma. Rollins said of the honor, "I am deeply appreciative of this great honor. In honoring me, the Kennedy Center honors jazz, America's classical music. For that, I am very grateful."
Sonny Rollins' Facebook
Craft Recordings Website
comments powered by