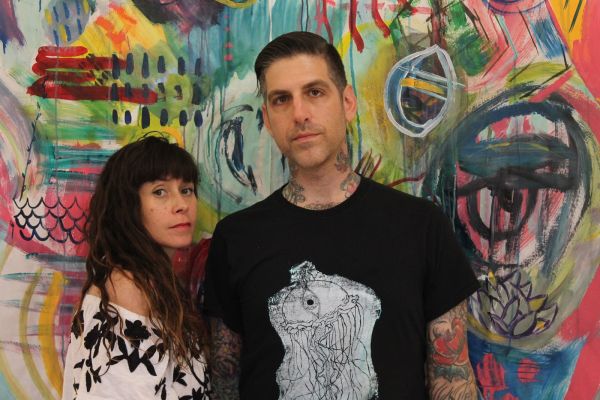 12 April 2017
The Royal Oui; Photo Credit: The Royal Oui
Married Canadian-American pair Adrienne Pierce and Ari Rosenschein have both bad long-standing solo careers in the music field (with Rosenschein using the moniker Ari Shine) before teaming up as The Royal Oui. In 2014 they released their self-titled folk-pop debut album and now they are following it up with second LP, This is Someday, which arrives May 19 via File Under: Music (Dan Mangan, Kathryn Calder, Blackie and the Rodeo Kings).
The Big Takeover is proud to present "All About You, the lead single off This Is Someday. Its buzzing synths and aggressive electro bent are a departure from the dreamy, acoustic mood of the duo's debut album.
"All About You" begins with the statement "You don't know why you do the things you do," before describing a person who "gets a thrill from the perversion." The band explains they've both been guilty of taking on other people's emotional problems and that the song is about narcissism.
The Royal Oui has earned accolades from sources as disparate as Rolling Stone and American Songwriter. Performer described the band as "impassioned indie pop." No Depression said, "The Royal Oui is able to make listeners feel true love." They have supported acts such as Great Lake Swimmers, Lindi Ortega, Steve Poltz, Kathryn Calder (The New Pornographers), Yuna, Jacco Gardner, and many others. Their electro-fueled take on the Bruce Cockburn '80s classic "Lovers In A Dangerous Time" was featured on CBC's Songs You Need To Hear and stayed in rotation for months on Radio 3.
On April 25, hot on the heels of the single release, the band will unveil a video for "All About You" by Canadian filmmaker Allison Beda featuring choreography by Tara Cheyenne Friedenberg.
Official Site
Facebook
Twitter
Instagram
Youtube
The Royal Oui at File Under Music
File Under: Music SoundCloud
comments powered by