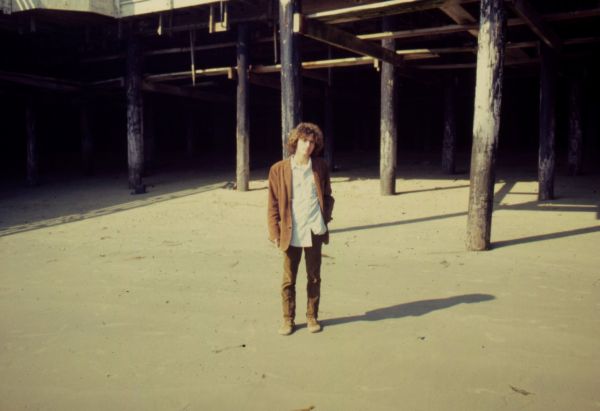 13 October 2017
Tim Buckley; Photo courtesy of Conqueroo
UNRELEASED 1969 TIM BUCKLEY LIVE RECORDINGS UNEARTHED – Venice Mating Call (2-CD set) and Greetings From West Hollywood (2-LP package) coming October 13 from Manifesto Records
Legend Tim Buckley's album Live at the Troubadour 1969 (released in 1994) has long been a fan favorite, with its improvisational raw energy in songs that stretch toward or past the 10-minute mark, and combinations of acoustic and electric guitars, Fender Rhodes piano and electric bass, and drum set and congas — all throbbing and brewing in a dynamic jazz-folk stew. Live at the Troubadour 1969 represents a brief period of the ever-evolving explorations of Tim Buckley.
Maverick reissue producer Bill Inglot recently discovered more Troubadour tapes in the archives. He and fellow reissue producer Pat Thomas uncovered five different sets of material from three days' worth of shows. These revelatory tracks have been assembled into a 2-LP package, Greetings From West Hollywood, and a 2-CD set, Venice Mating Call, both to be released October 13th on Manifesto Records
These early September 1969 shows featured a slew of songs that had yet to be recorded in the studio (at that point), songs that would turn up on Lorca and Blue Afternoon, and even songs that were unique to this run of shows!
The improvisational nature of the music meant that Inglot and Thomas could assemble a couple of albums worth of material that would duplicate the track listing from the Troubadour 1969 album, but present the listener with radically different versions of each song, plus add songs that did not appear on Troubadour 1969, including one that didn't make it onto any Buckley studio LP at all.
To satisfy Buckley fans around the globe, they constructed two different packages — the 2-CD Venice Mating Call and 2-LP Greetings From West Hollywood, each of which have only two songs (versions) in common with each other. During this run of shows, Buckley occasionally moves lyrics from one song into another (or constructs an entirely different lyric), he folds the riff from "Buzzin' Fly" into other songs, and so on. The whole band is vamping together — going into exploratory flights at other points. The energy coming off the stage and into the tape recorder is effortlessly exciting.
Thomas also penned the liner notes, which center on an extensive new interview with long-time Buckley guitarist (and on these recordings keyboardist) Lee Underwood that reveals incredible details into Buckley's working methods. The packaging also includes piles of previously unseen photos and memorabilia from the era.
Exclusive to The Big Takeover, the albums' co-producer and liner note writer (and author) Pat Thomas explains, "There are also works-in-progress versions of songs from the Lorca album. "Anonymous Proposition" is listed as "Slow Samba" on the tape boxes and the song "Lorca" is noted as "5/4.""
In another exclusive to The Big Takeover, Buckley's musical collaborator Lee Underwood confides, ""The slow samba was the first attempt to play the song "Anonymous Proposition" that was on Lorca. You start with the words and then the song kind of moves into a whole improvised thing and turns out the way it turned out."
The Big Takeover is highly honored to premiere "Anonymous Proposition" in all its 8-minutes-plus exploratory splendor, crowned by Tim Buckley's rich, reflective, and longing vocals.
Greetings From West Hollywood
Track Listing
Disc One:
1. Buzzin' Fly
2. Strange Feelin'
3. Blue Melody
4. Chase The Blues Away
5. Venice Mating Call
6. Gypsy Woman
7. I Don't Need It To Rain
Disc Two:
1. Driftin'
2. (I Wanna) Testify
3. Anonymous Proposition
4. Lorca
5. I Had A Talk With My Woman\
6. Nobody Walkin'
Venice Mating Call
Track Listing
Disc One:
1. Buzzin' Fly
2. Strange Feelin'
3. Blue Melody
4. Chase The Blues Away
5. Venice Mating Call
6. Gypsy Woman
7. I Don't Need It To Rain
Disc Two:
1.Driftin'
2. (I Wanna)Testify
3. Anonymous Proposition
4. Lorca
5. I Had A Talk With My Woman
6. Nobody Walkin'
comments powered by