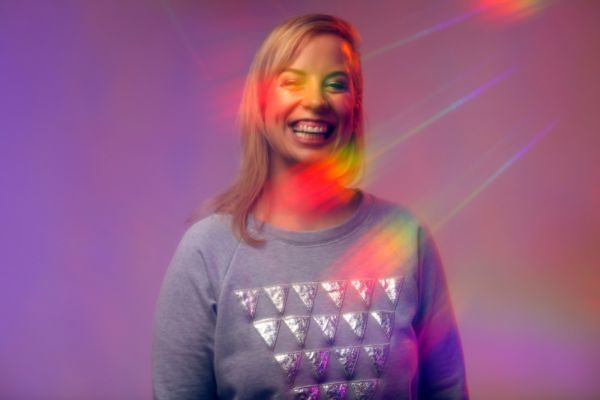 12 June 2018
Morgane Lhote as Hologram Teen – Photo Credit: Elena Kulikova
One of the great things about running a publication that stands its ground for so many years is that you get to observe the many developments artists go through along the way. With Stereolab being as notable as they are, when long-term keyboard player Morgane Lhote announced her Hologram Teen project, The Big Takeover was on board with a premiere for her solo electronic Motorik disco project.
Today we have the pleasure of premiering the track "Bleecker Street! Chase Me"' ahead of the digital release of her debut album Between The Funk and The Fear, which comes out on July 6th. This album should definitely appeal to lovers of French house, Etienne de Crecy, Deadmaus5, ESG, Umberto, Yello, Add N to X, Death in Vegas, Stereolab, Ghostbox Records, Goblin, and Italian zombie horror soundtracks.
The vinyl version was first released at the end of 2017 by London label Polytechnic Youth. To date, only two tracks from this album have been shared – 'Escape from Paris (Orange Crate Art Remix)' and 'God(d) Of Thunder Vs. Sukia'.
""Bleeker Street! Chase Me!' is one of the shortest songs on the album and the companion piece to 'Brooklyn's Broken! You Caught Me!'. I had a very cinematic vision for the track: a driving pulse evoking chase scenes from the late '70s/early '80s John Carpenter and Walter Hill movies but with a sinister slant to it. The song is set in NYC on the east side of the Bleecker Street subway station, where you see can disco-like honeycombs of LEDs on the ceiling. This digital art installation always fascinated me during my commute as it felt like being transported back to Studio 54 but in a super grimy setting. Very New York," says Morgane Lhote.
Morgane Lhote recorded and performed with Stereolab during their imperial phase between 1995 and 2001, when they released a series of career defining albums including Emperor Tomato Ketchup. Later on, she did a stint in The Projects and, from 2005, played in Garden with members of Simian Mobile Disco before starting the Hologram Teen project. Having lived in Paris, NYC, and London, she is now based in LA.
Between The Funk and the Fear includes 11 killer occasionally whacked-out tracks, inspired by a multitude of key figures from varying genres – the soundtracks of Goblin and John Carpenter, 1970s French Disco and psychedelic Brazilian rock, Congolese Soukous, and the string arrangements of François de Roubaix and Jean-Claude Vannier.
This release follows Hologram Teen's widely acclaimed Marsangst EP, released via Happy Robots Records last year. Apart from California's Sukia, Morgane Lhote is joined on his new album by Swedish musician Orange Crate Art, spicing up the proceedings. Longtime collaborator Richard Bennett also mixed and produced all the songs on the LP, and the live instruments were recorded at his studio in Brooklyn.
Although Hologram Teen embraces electronica and pop, she does so in a way that is more evocative of a prog rock disco horror soundtrack than the soulless EDM that fills the pop charts. Her approach in mixing creepy vintage library effects with bouncy dancehall synths and disco beats has won Pulp's Jarvis Cocker over as one of her many newfound fans.
"With this first LP, I wanted to create the soundtrack to the trippiest horror movie ever, and combine the scary and the absurd, through a very tongue in cheek aesthetic both musically and visually. For this project, I decided to experiment with adding live instruments, such as bass, drums, and strings, instead of or in conjunction with electronic instruments on some tracks. It was especially interesting to merge both musical feels and textures into one cohesive narrative," says Lhote.
Between The Funk and The Fear will be available across all the regular music stores and streaming platforms, and can also be pre-ordered via Bandcamp
TRACKLIST
01 Post-Apocalypteacakes
02 Bleecker Street! Chase Me!
03 Tracksuit Minotaur
04 God(d) of Thunder vs. Sukia
05 Roller Lover Doppelgänger
06 Hologram Teen & Brasil 666
07 Bartók in C
08 Brooklyn's Broken! You Caught Me!
09 Lesbian Death Drums
10 Magique Afrique
11 Escape from Paris (Orange Crate Art Remix)
Also enjoy two more offerings from this album:
and her earlier offerings, released through Happy Robots Records:
Hologram Teen
Facebook
Twitter
SoundCloud
Bandcamp
MixCloud
Spotify
iTunes
comments powered by