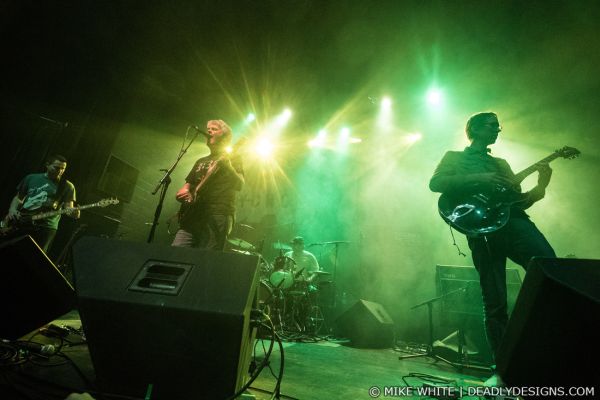 14 August 2017
Mark Crozer and the Rels; Photo Credit: Mike White/Deadlydesigns.com
MARK CROZER AND THE RELS are back with 10 fresh new hyper-melodic soon-to-be-classics ready for your listening pleasure. Between his big hit song "Living In Fear (Broken Out in Love)" via WWE star Bray Wyatt and spending 2014 – the present touring as a member of THE JESUS AND MARY CHAIN which included recording their Psychocandy Live At Barrowlands album (Demon / Edsel) – NYC by way of Oxford, UK singer/songwriter Mark Crozer has collected another string of timeless tracks that make up his band's latest album, Sunny Side Down (PSR093).
The album was recently released to worldwide praise. UK based magazine, SHINDIG! best described the band's sound as "the best bits of powerpop and The Paisley Underground, mixed that with early Primal Scream, Lightning Seeds and the Pale Saints, added some jangly indie-pop guitars and made a delicious confection that gets better with every listen."
Sunny Side Down is packed side to side with catchy, melodic, sugary coated pop perfection – including the latest single "Corners of Your Mind". Along the way you're treated to pure jangly, hipnotizing, and atmospheric indiepop sounds.
The LP was co-produced by the band and indie legend MITCH EASTER (R.E.M., PAVEMENT, VELVET CRUSH) and mastered by TIM TURAN (SWERVEDRIVER, THE RAMONES, RIDE). The LP is out now via digital download and limited edition vinyl: 300 units (200 black, 100 translucent yellow) plus ultra limited compact disc.
TRACK LISTING:
MARK CROZER & THE RELS
SUNNY SIDE DOWN (PSR093)
Ultra Limited Edition Vinyl Release
SIDE 1
01:: All You Gotta Do
02:: Corners of Your Mind
03:: Lukewarm Love
04:: Toxic Town
05:: Haunted Head
SIDE 2
01:: Here Comes The Storm
02:: Photographic Memory
03:: Plasma
04:: Loathsome Freddy
05:: Say Hello
Take a listen to the single release of "Corners of Your Mind":
FOR MORE MARK CROZER INFO:
Bandcamp
Twitter
Facebook
comments powered by