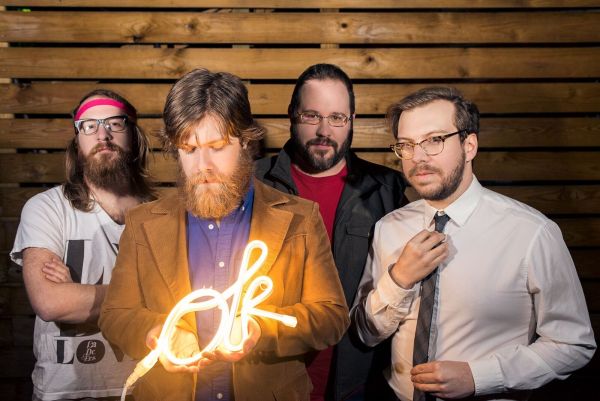 5 June 2017
Wreck Loose; Photo Credit:Christopher Sprowls
From the first, forceful moment of their upcoming debut album, OK, Wreck Loose, Pittsburgh-bred indie band Wreck Loose announce themselves as heirs to the tradition of vibrant, but thoughtful pop-rock that dominated AM radio in the 1970s. Set to release on June 16th, the band combines bright piano and analog guitar with lyrics that are quirky yet introspective, for a sound that remains modern, but is also consistently steeped in pop music tradition.
Songwriter Max Somerville tells small-scale stories of tragedy and redemption, followed by mountain-high tales that still seem intimate. OK, Wreck Loose is a follow-up to the band's 2013 EP, Well.
Formed in 2013, Wreck Loose also includes Somerville's bandmates Nathan Zoob (guitar), Dave Busch (bass), and Derek Krystek (drums). OK, Wreck Loose represents a year of concentrated effort and creative collaboration, marked by the spirit of discovery that brought them together in the first place.
The song "Hard Drugs", which The Big Takeover premieres here, showcases Wreck Loose's talent for unconventional titles and a mix of strong melodies and hooks with explorations of genre and space.
Somerville reveals details about the personal meaning behind the lyrics of "Hard Drugs", explaining, "I grew up in a small town where there was nothing better to do than get high. You were supposed to work hard and be apathetic about everything else. I was on the outside of the drug scene, but I fantasized that if I did harder drugs, I wouldn't care about anything, and that would somehow make me cool. I stayed away from the hard stuff, but I did watch a lot of my friends die over it. It's crazy how powerful your imagination and curiosity are when you're a kid. And I wanted to somehow recall that part of it fondly in this song."
The band will play a release show for OK, Wreck Loose on June 16 at the James Street Ballroom They will also tour nationwide in support of the record throughout June and July.
Tour Dates:
June 16 – Pittsburgh, PA – James Street Ballroom
June 27 – Baltimore, MD – Joe Squared
June 28 – Washington, DC – Smith Public Trust
June 29 – Philadelphia, PA – Bourbon & Branch
July 1 – New York City – Bar Matchless
July 3 – Mansfield, OH – Relax, It's Just Coffee
July 7 – Canton, OH – Buzzbin
July 13 – Nashville, TN – The Cobra
comments powered by