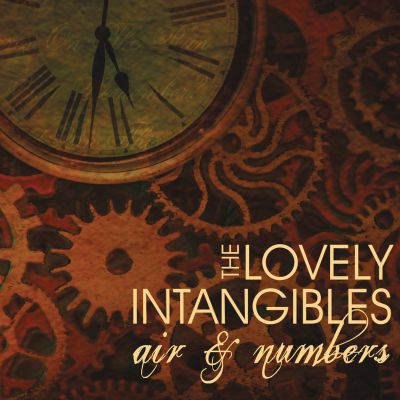 21 October 2016
The Lovely Intangibles : Air & Numbers album out now – Lead Single "Horses On The Run" premieres here
The Lovely Intangibles, Greater New York's premier dream-pop outfit, reverberate to new heights with their latest release, Air & Numbers. Recorded in Spring 2016, A&N documents the never-ending journey of a group of musicians to reach shimmering elevations while retaining a solid foundation that has been built over time. The album was mixed and mastered over a two-week period in Los Angeles by Brian Kehew (Fiona Apple, Talking Heads, The Who).
"On a prior trip to California I observed Brian in action, and was completely impressed with what he was doing and the sounds he was able to achieve," says Intangibles co-founder, Stephen Masucci. "After some discussion about this project, we pretty much gave him carte blanche on the mixing and mastering."
Also making an across the pond appearance on this release is bass virtuoso, Jon Camp, of Renaissance fame. "Jon was gracious enough to provide some bass on our last release, Tomorrow is Never, and we were so awestruck with his abilities that we decided he is now an official member of the band." says Masucci.
Along with Masucci's ubiquitous guitar tones and production value, the record is rounded out by Tony Mann's bedrock drumming, Mike Williams' ethereal 12-string acoustic, and of course, Mary Ognibene's divine voice.
Jack Rabid reviews the album in the next issue of The Big Takeover:
"the lovely intangibles : air & numbers
This is ridiculously cinematic-gorgeous. Talk about headphone albums; the second LP from greater-New York's LIs extends the sensualities of 2015's debut Tomorrow is Never – and recent albums by their three-fifths-same-members The Lost Patrol—by audibly enhancing their sonic splendor. (Bravo, tapping Brian Kehew for mixing/mastering.) Stylistically, the Lovelies' welcome tricks that distinguish them from younger dreampop outfits remain and resound: resonant squiggles of surf and spaghetti western are faithfully mood-entrancing in Stephen Masucci's eclectic electric playing beside Mike Williams' acoustic bedrock, in a 1987 Tony Fletcher-era Chameleons way. These ring smoothly over Brit newcomer/'70s Renaissance legend Jon Camp's pliant bass and Tony Mann's light-touch drumming. Like Sansyou or Raveonettes, they hypnotize; adjoin Mary Ognibene's (Dotsun Moon) Nancy Sinatra-like crooning, like on the standout "Horses on the Run," and you're in full-on "Some Velvet Morning" bliss. "We built an empire doomed to fall," they sing; but the airy Air is more Acropolis than Atlantis."