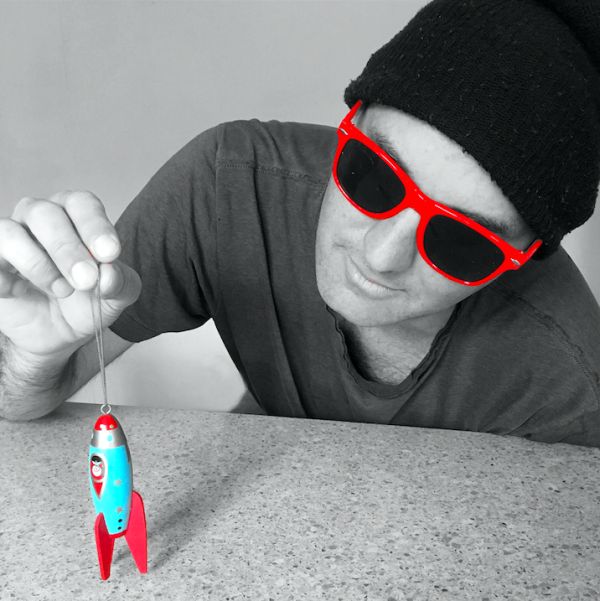 31 July 2017
John Elderkin; Photo Credit: Shaun McCarthy
Recorded over two years with a dedicated collection of Carolina indie-rock all-stars, John Elderkin's The Fall and Rise of John Elderkin and ¡Moonbeams No Mas!, which comes out August 4th, also features co-star and story-teller Danielle Howle, R.E.M. producer Don Dixon, Robert Sledge from Ben Folds Five, as well as members of The Old Ceremony, Pressure Boys, Sex Police, Dillon Fence, What Peggy Wants, The Temperance League, Hobex, National Symphony Orchestra, Popes, Spongetone, Hindugrass, Satellite Boyfriend, and The Coolies.
The Fall and Rise of John Elderkin and ¡Moonbeams No Mas! is a full-blown rock opera indebted to Ziggy Stardust and The Spiders From Mars, but with fresh characters and a plot that veers from zany hijinks to spiritual quest and, indeed, includes an urgent message for the people of Earth.
Paired with a backdrop of rock and roll that runs seamlessly from alt-country to psychedelic freakout, Elderkin and Howle's wild adventure takes place in a world in which rock stars are viewed as prophets. A world in which David Bowie's "Ziggy Stardust" promise that life on Earth will end in five years is taken seriously by all. A world of fighting the good fight despite impossible odds. In other words, our world, sort of. And in the end, the real world teaches the band a lesson we all eventually learn—the heavy price we pay when we go all in.
The Big Takeover premieres a prime cut from the album, "Song For David Bowie", one of many songs that are a tribute to and tongue-in-cheek spin of David Bowie's classic, The Rise and Fall of Ziggy Stardust & The Spiders From Mars.
Live-show extravaganzas are being planned for the fall, including the following live dates:
09.09 at Cat's Cradle (Chapel Hill, NC)
09.10 at Evening Muse (Charlotte, NC)
comments powered by