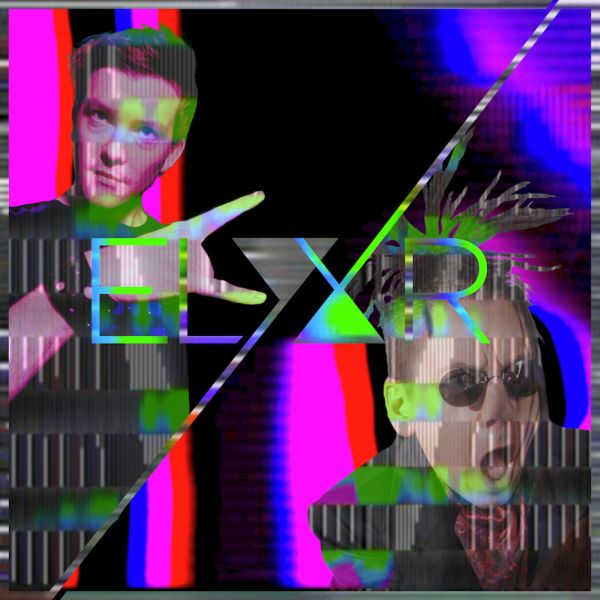 6 March 2018
ELYXR – "Strange Stubborn Proud"
For anyone who lived through the mainstay of the synthpop genre introduced to us in the 1980s, Information Society should be a household name. It's been a good while since the world last heard anything new from this iconic outfit. Here Seattle-based artist ELXYR enters the scene with a new collaboration with InSoc's Kurt Harland Larson. Today The Big Takeover has the pleasure of premiering the 12" extended remix of 'Strange Stubborn Proud'.
On this new track, Larson's delivery and panache is as striking as it ever was, while ELYXR (a.k.a. producer Kasson Crooker) seems to have composed his new track especially for the purpose of creating the perfect bed for Larson's vocals.
Set for release by Speed of Dark Music this coming Friday, this track should also appeal to fans of Human League, ABC, Cancon, Dead or Alive and mid-career New Order. This is perfectly calculated maximal pleasure pop. Infectious and creative, paying tribute to notable roots while creating music for your future soundtrack. This track is just as powerful as anything InSoc ever released.
Formed in 1982 while in college, Larson started Information Society, which would become a decades-long involvement with music, electronic audio, and recording/programming. As a synthpop band, Information Society achieved mainstream success in the late eighties and early nineties, most widely known for their 1988 hit single 'What's On Your Mind? (Pure Energy)'. Larson reunited with his former bandmates in 2007, giving the band new impetus, releasing new material and touring internationally.
ELYXR is a collaborative project with a penchant for concocting modern synthpop potions, headed by Seattle-based indie-electronic artist Kasson Crooker (Symbion Project, Freezepop), who not only produces his releases, but also mixes and masters them at Speed of Dark Music studios in Seattle.
Strongly influenced by Depeche Mode, New Order, Moderat and Information Society, ELYXR merges the best of old-school '80s synthpop with modern electropop production, similar to artists like Röyksopp, Goldfrapp and Marsheaux. The origins of this project trace back to many years of making electropop with Freezepop, during which time Kasson met many other talented artists. ELYXR was the perfect outlet to collaborate with them, creating a fresh synthpop sound.
"I first heard Freezepop in the early '00's, and immediately told my wife, who worked at a record store, about them. Shortly thereafter she got them to come out to San Francisco for a in-store appearance, which was, I think, their first San Francisco trip. I loved Kasson's work with Freezepop over those years, and when he started Elyxr, I jumped at the chance to make music together for the first time," explains Kurt Harland Larson.
"The lyrics for SSP were inspired by the words of a friend. I read what she wrote and spun them up into lyrics. I hope that anyone who hears the song can hear the duality in the lyrics: While clearly striking a proud and defiant tone, there is also a note of tragedy in the voice; anyone who must walk this sort of path must endure rather a lot of social suffering."
While some of ELXYR past work has been dreamy and introspective, 'Strange Stubborn Proud' is more an in-your-face mix of classic synthpop and electro. This track is upbeat and energetic, featuring modern synthesizer sounds intermingled with detuned vintage synths over complex and syncopated drum machines. The unique nature of each song's vocalist takes each composition in a different aesthetic direction.
"Information Society is one of my most influential bands and helped inspire me to begin making synthpop in the 80's. In fact, InSoc was the very first band I ever went to see as a teenager," says Kasson Crooker.
"I've known Kurt from InSoc now for many years as he and I both do music/audio production for videogames. We just needed to find the right song to work on together. I gave him some song options to choose from and was psyched that he found one that channeled a bit of the early InSoc "Running" sound. I love the fact that, through the lyrics, he unapologetically states his motives and how he operates outside of society's norms and conventions!"
Apart from this current single, ELYXR has been extremely busy over the past half year, issuing six outstanding singles in that period, featuring Color Theory, Elissa LeCoque from enigmatic Brooklyn act Kodacrome, Katrina Kope from Seattle-band Purr Gato, Naoko Takamoto of Princess Problems, and long-time collaborator Melissa R. Kaplan from Kasson's previous band Splashdown.
'Strange Stubborn Proud' will be released on March 9 via Speed of Dark Music across online stores and streaming platforms, as well as on ELYXR's Bandcamp
You can also check out a selection from each of these artists' back catalog below:
Keep up with ELYXR
Bandcamp
Facebook
SoundCloud
Twitter
Spotify
iTunes
comments powered by