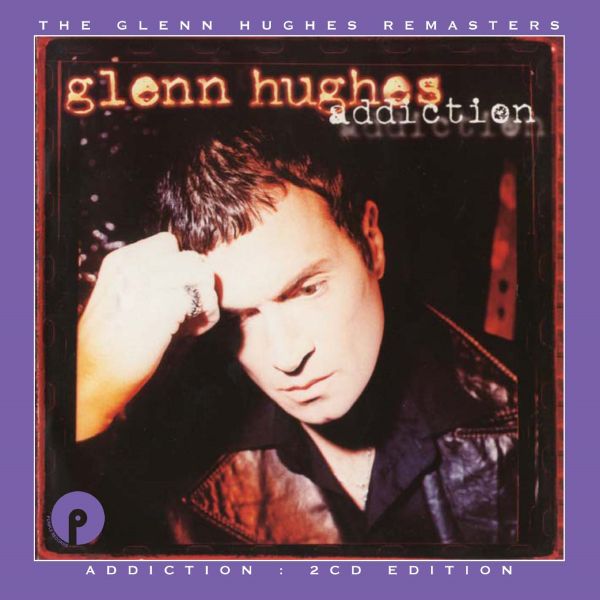 27 June 2017
Glenn Hughes – Addiction
Renowned singer-songwriter/musician Glenn Hughes' 2-CD Addiction: Expanded Edition is set for June 30th release via Cherry Red Records.
Glenn Hughes, undoubtedly "The Voice Of Rock", came to prominence in Trapeze, a group which included future Whitensake guitarist Mel Galley, and Judas Priest drummer Dave Holland. Trapeze were on the brink of major Stateside success, when, in 1973, Hughes was offered the golden opportunity to play bass and sing with Deep Purple, joined by David Coverdale for "Burn", "Stormbringer", and "Come Taste The Band".
With the group splitting in 1976, the first fruits of Hughes's post-Purple career appeared with "Play Me Out" in 1977. Hughes would go on to collaborate with Pat Thrall in Hughes/Thrall, Rainbow's Joe Lynn Turner in the Hughes Turner Project, with Tony Iommi in Black Sabbath and the self-titled Iommi album, plus have a robust and long-lived solo career.
Hughes' fifth solo album, Addiction, was originally released in 1996, and unlike the more pop, soul, and funk sounds of his previous record Feel, Addiction sees the singer returning to a much harder rocking sound. Guitarist Marc Bonilla performed, co-produced, and co-wrote nine of the ten original songs.
This 2-CD edition of Addiction includes live versions of Trapeze classics "Way Back To The Bone", "Coast To Coast", and "Your Love Is Alright", as well as live versions of Deep Purple's "Gettin' Tighter", "Stormbringer", and "Burn".
The expanded booklet features liner notes by Classic Rock magazine's Malcolm Dome based on new interviews with Hughes.
The Big Takeover streams original album track "Talk About It" as well as two live, never-issued-before bonus cuts from Addiction: Expanded Edition
DISC ONE: ORIGINAL ALBUM (1996)
1. DEATH OF ME
2. DOWN
3. ADDICTION
4. MADELAINE
5. TALK ABOUT IT
6. I'M NOT YOUR SLAVE
7. COVER ME
8. BLUE JADE
9. JUSTIFIED MAN
10. I DON'T WANT TO LIVE THAT WAY AGAIN
BONUS TRACKS
11. WAY BACK TO THE BONE (LIVE)
12. TOUCH MY LIFE (LIVE)
13. YOU FOOL NO ONE (LIVE)
DISC TWO: LIVE IN HOLLAND 14/07/1995
1. STORMBRINGER
2. THE LIAR
3. YOU FOOL NO ONE
4. MUSCLE & BLOOD
5. PUSH
6. THIS TIME AROUND
7. COAST TO COAST
8. YOU'RE THE MUSIC
9. YOUR LOVE IS ALRIGHT
10. GETTIN' TIGHTER
11. VOCAL INTRO
12. YOU KEEP ON MOVING
13. BURN
Pre-Order Addiction: Expanded Edition at Cherry Red Records
comments powered by