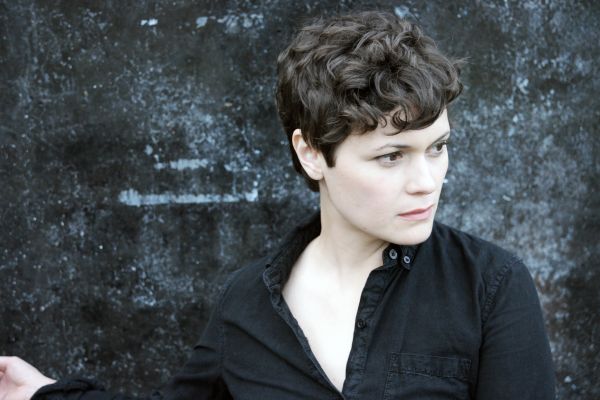 13 September 2017
Irene Barber of Nearby; Photo Credit: Whitney Thoren
Seattle-based artist Nearby, a.k.a. Irene Barber, showcases as an artist often referred to in relation to her collaborators (Erik Blood, Dust Moth, XVIII Eyes) in all her full-throated, psychedelic glory. Her video for "Breakers", which premieres here at The Big Takeover, is a rapturous swell of hypnotic guitar and pulsing electronic rhythms; a seemingly simple statement that grows in stature the more you watch it.
"Breakers" captures a day at the beach with Barber's blind pup, Peaches Tokio. It's a dream-like experience that visually imagines Peaches' non-visual world of texture, shape, movement, and sound that reinforces the lyrical content in ways both subtle and overt. Beautifully shot at a Pacific Northwest beach on a crystal clear summer day, Peaches runs to and from the waves drifting on to the shore. As Barber declares "I've been drowning the waves for you", her furry companion becomes a totem for the loyalty and enduring love the narrator proclaims and pines for. The simplicity of the story is enhanced by the stunning quality of the camera work. Saturated hues of pink and purple intermittently mingle with the daylight, creating a cosmic and surreal viewing experience.
Barber is a vocalist, multi-instrumentalist, and musical collaborator whose debut solo EP, Garden Exercise, is an intimate play on the experience of growth and experimentation as a solo artist, moving into full blossom by her own design. Barber refers to this work as "Luxury Bedroom", an intoxicating and textural sound that is enveloping and inviting in equal measure. Garden Exercise is released via Barber's own tape collective No Genre. Previous releases via No Genre include albums by Erik Blood and Hotels.
comments powered by