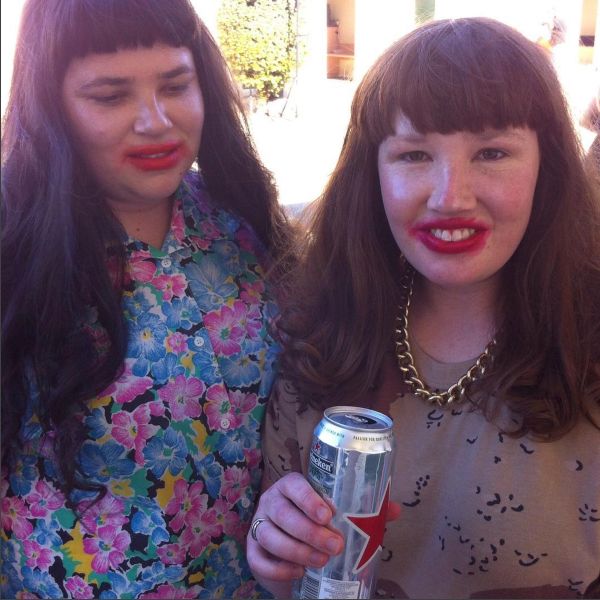 29 August 2018
Olsen Twins – Photo Credit: Mia Shoen
Olsen Twins are a relatively unconventional band from Melbourne, Australia. As sisters, they get their name from being reverse-heckled by an artist friend for talking during a show ("Hey Olsen Twins, take a New York minute to shut the fuck up.")
With a down tuned guitar, large gauge strings, alternate narrowed tunings for each song, double cow bell – or no cow bell, and painstakingly recorded cassette loop backing tracks, the sisters kick off their first release titled Cat, Rat and Dog on Emotional Response Records.
The two-piece consists of music amateurs Phoebe and Harriet Robertson who began writing poems and playing simple no wave punk songs in 2015. Phoebe had played in a string of ska and indie rock bands in Tasmania and Melbourne; however she was new to drums and approached the project with a simple off-beat drumming style.
Harriet was angry to be home in Australia, and picked up the guitar, having just returned from living among a riot grrrl and experimental punk scene in Boston, MA. While lamenting being away from the energy of those basement shows, Harriet was brimming with brat-pop lyrics, snatched from classified advertisements and health inspection reports.
The Big Takeover is delighted to premiere the video for the rough-grained, fresh-mouthed "Eternal Water Falling", a love poem to Harriet's year spent in Boston. The nostalgic narrative deals with the cycles of time, seasons, and the irreversible change of nature.
comments powered by