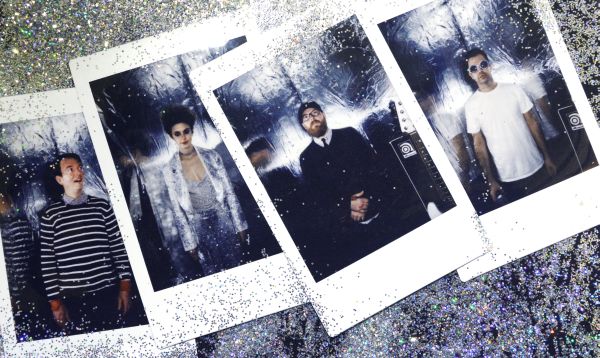 19 December 2016
Honeyrude; Photo Credit: Jess Ledbetter
Honeyrude originated in Austin, Texas in 2013 under a different name and line-up. Founding members Ian Lund and Billy Kunath acquired Jess Ledbetter on guitar and vocals in fall of 2015 and Paul Goetz on drums in spring of 2016 to solidify the project as a sentiment of '90s rock 'n' roll.
A graduate of Columbia's audio engineering program, Lund began recording the band in his apartment with the intention of re-tracking in a studio later. With the encouragement of friend, producer, and musician Brandon Tucker, the band has decided to self-record an EP to be released in the spring of 2017.
A fusion of influences, the band comfortably cites The Cure, Swervedriver, MBV, Ride, and Sonic Youth as their ideal comparisons and calls the EP "'90s-influenced reverbed out rock 'n' roll shoegaze by four pals still dreaming about the good ol' days."
The new single "Roger McClain" is a one-song teaser of the forthcoming debut EP that will be released via Shifting Sounds in the spring 2017 on colored vinyl w/ digital download included. The band plans to tour the US in the late spring in conjunction with the release.
Honeyrude is Ian Lund – guitar, Billy Kunath – bass, Paul Goetz – drums, and Jess Ledbetter – guitar//vocals.
For fans of Teenage Fanclub, My Bloody Valentine, The Verve, Swervedriver, Medicine, and Failure.
Review:
"This is a year-old Austin four fronted by a statuesque blonde Jess Ledbetter, and for such a newish group, they've got it going on this one-song teaser for a 2017 EP. If they have more like this, that seems like a Top 40 lock: Ian Lund is a guitar wunderkind, maxing out heavily processed jangles, like Strange Times Chameleons mixed with Masons California Lunchroom For Against, with a harsher, more squalling sound for grainier accents. Furthermore, Ledbetter's lulling voice reminds of Camera Obscura's Tracyanne Campbell and Long Blondes' Kate Jackson, bassist Billy Kunath and drummer Paul Goetz are rock solid too, and this a hell of a dynamic, tuneful track—light and dark/soft and loud at once. EP please!"
- Jack Rabid / The Big Takeover – Fall Edition #79
Purchase single at Shifting Sounds Bandcamp
and Shifting Sounds Store
Honeyrude Facebook
Shifting Sounds Facebook
comments powered by