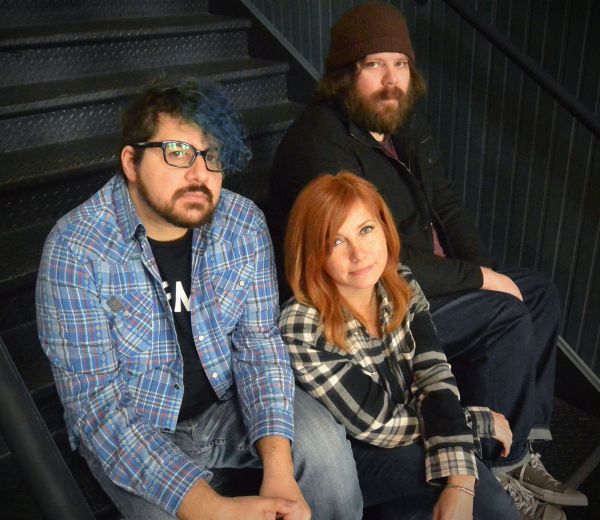 28 June 2017
Overlake; Photo Credit: Stacy Swane
Jersey City's Overlake released their second LP, Fall, last month via Bar/None Records . Recorded and co-produced by Tom Beaujour (Nada Surf, Jennifer O'Connor), it features eight tracks of noisy to introspective, reverb-drenched dream-pop that draw influence from '90s favorites like My Bloody Valentine, Slowdive, and Yo La Tengo.
Based in Jersey City, NJ, Overlake was formed in 2012 by lead singer and guitarist Thomas Barrett and bassist Lysa Opfer who were playing in a local hard-rock band at the time. Their musical kinship grew organically, and after a seemingly endless Spinal Tap -like run of fill-ins, the band's current line-up was rounded out in 2015 by drummer Nick D'Amore.
Fall comes as a follow-up to the band's 2014 debut LP, Sighs, and features a massive mix of heavily delayed guitars, driving bass lines, and propulsive percussion, all topped off with airy vocals and ethereal harmonies. The album is peppered with hints of sparse piano and mournful violin, courtesy of Claudia Chopek, who has appeared on recordings by Norah Jones, TV On The Radio, Ghost Of A Saber Tooth Tiger, and more.
The Big Takeover premieres the video for dreamy single "Unnamed November", which features the band in performance mode superimposed with hazy abstract,city, and landscape imagery.
The band enthuses, "We wanted to try some different techniques with this video, specifically with layering of images, to visually reproduce the dreamy quality of the song and lyrics. We were lucky to work with a director (Greg Randolph), who shared our vision and was up for trying anything. It was a lot of fun to make!"
Upcoming shows:
7/7: New York, NY at Pianos,
7/8: Kingston, NY at BSP
7/10: Burlington, VT at Radio Bean
7/11: Ottawa, ON at Bar Robo
7/14 & 7/15: Pelee Island, ON at Westview Tavern
7/18: Indianapolis, IN at Melody Inn
7/20: Brooklyn, NY at Diviera Drive
Official Site
Facebook
Twitter
comments powered by