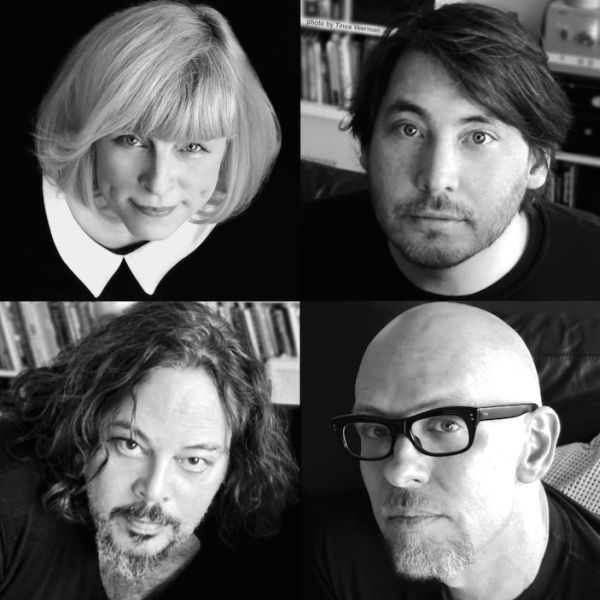 22 March 2017
Bettie Serveert; Photo Credit: Mark Bakker
Twenty-five years after first surfacing with their debut album Palomine, Dutch cult indie band Bettie Serveert are back with their 11th studio album, Damaged Good. The Big Takeover is pleased to premiere the new video for "Unsane" from this album, a fine and catchy upbeat track with synth-pop / New Wave underpinnings – a mix that works really well and brings the band into wider, more free-flying territory. It's a welcome addition to their raw, but endearing sound.
Shot in Verviers, Belgium, this video was filmed primarily by Tinca Veerman , and a bit by Peter Visser, under the production of Hello Piss Face! Productions (Yes that's actually the name of the company). Here, Carol van Dyk is on vocals and guitar, with Peter Visser on guitar, Herman Bunskoeke on bass guitar, Joppe Molenaar on drums, and Jesse Beuker on keyboards. The lyrics are easy enough to identify with:
"Never going back again
This time won't be the same So you see I really tried
To do my best, it's still not right I'm stepping out tonight
Don't believe in platitudes
Just give it straight from me to you
Why do all sweet delights seem to turn into a fight? I'm stepping out tonight
Am I a commodity?
A piece of property?
A question that's haunting me Explain: un-unsane
I'm never going back again Too sad to feel the pain You won't stop zapping me Now put me out of misery Explain: un-unsane
Am I a commodity?
A piece of property?
A question that's haunting me Explain: un-unsane"
This 11-track offering had its European release late last year, but now gets its shot at America thanks to a special release via Raleigh-based Schoolkids Records
This is one of two exclusive limited-edition vinyl titles will be released as part of the Tenth Annual Record Store Day event, to be held on April 22nd. The other is a 7" single from legendary North Carolina band The Veldt, which includes "Symmetry" and b-side counterpart "Slow Grind".
This limited edition exclusive transparent magenta Vinyl LP (with beautiful gatefold packaging) will include a digital download and full CD. This is the only version of the LP or CD available in North America. This is one of 'The Betties' most diverse albums so far, including songs ranging from 60 seconds to an 8 min epics and everything in between.
The Damaged Good LP experience is intense, raw, and tender, but it is also passionate and fierce. Some songs will definitely remind people of their classic Palomine, the debut album that started everything 25 years ago. Damaged Good was recorded and mixed with Jesse Beuker, with whom Canadian-born vocalist Carol van Dyk and lead guitarist Peter Visser have worked before on their Australian project Me & Stupid. This collection of 11 tracks also includes the rock duet "Love Sick" with Peter te Bos, vocalist from the famous Dutch band Claw Boys Claw.
TRACKLIST
B-Cuz
Brickwall
Brother (in Loins)
Damaged Good
Whatever Happens
Unsane
Digital Sin (Nr 7)
Mouth of Age
Love Sick
Mrs. K
Never Be Over
We also invite you to indulge yourself in another video from this same album, as well as one from label mates The Veldt.
BETTIE SERVEERT
Official Site
Facebook
SoundCloud
Twitter
YouTube
Instagram
Tumblr
comments powered by