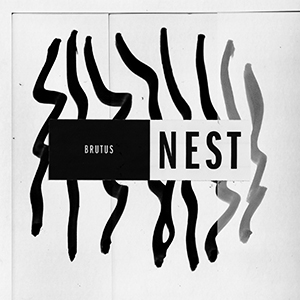 8 May 2019
With its debut LP Burst, the mighty Brutus exploded out of Belgium two years ago to redefine the term power trio. Now the band returns with its much-anticipated follow-up Nest. To say that the young threesome meets and exceeds its promise is practically an understatement.
The band's basic M.O. remains intact, still leavening its widescreen postpunk with subtle elements borrowed from hardcore and metal – indeed, the group's ability to incorporate bits from the heavy end of the musical spectrum without coming close to being metal itself is an amazing feat. But Brutus refines its approach here, integrating lighter dynamics, poppier hooks and near-ambient passages without softening its approach one iota. Thus "War" can begin with folky arpeggios from guitarist Stijn Vanhoegaerden and a mournful croon from drummer Stefanie Mannaerts before it crashes into high-energy thrash and comes back down to a heavy version of the opening chords – all without coming off like the band has DID. The grungy "Cemetery" contrasts with the lighter-footed "Fire" and "Blind," while the psychedelic pop of "Space" pulls way back on the wall of sound for a lower-key but still exciting side of Brutus' vision. Closer "Sugar Dragon" pulls their entire repertoire on sonic statements together into one epic number. The musicians play tighter than ever, but Mannaerts is still the star – her ability to sing her guts out while playing like Keith Moon in Killing Joke remains jaw-dropping.
The excitement generated by Burst put a heavy weight of expectation on Brutus, but on evidence of Nest it simply shrugged that off and got down to the business of rocking harder and smarter than nearly any young band in the business.
comments powered by