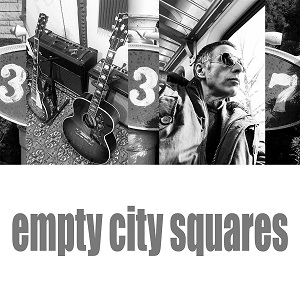 30 December 2019
New Jersey based Empty City Squares, the brainchild of John Fotiadis (AKA "Yanni" to his friends), have released a new 14-track album 337, and it is quite good. Following on from the debut, self-titled release, 337 delves deeper into the influences of Yanni, taking further steps into forging his own unique style. The questions remain- is John Fotiadis an architect who writes songs? Or a sublime songwriter who can construct more than just works of melodic splendor? Regardless this is something worthwhile to venture into, and 337 dances between power pop, blues with an ever present touch of sixties psychedelia. 
The long-player begins with a thriller in the beating "Neighborhood Van Gogh". A dreamy jangle of guitars which soothe as much as they excite. Switching gear as the album evolves into the acoustic nakedness of "A Big Sunset". The voice of Yanni soars with honesty here, and yes his influences remain prevalent there remains a stark honesty in the delivery. Almost as if the man is singing for his life.    

The
Warren Zevon
meets Brit-Pop sizzle of "Campaign Song", adds that extra dimension to the flow of
337
. Audiences are grabbed in by "Sometimes You Need To Look Back (When You Look Ahead)". An organ-driven standout, with an uplifting vibe that murders any negativity within the listeners thoughts. Whereas the urgent acoustics of "A Conversation With The Sun" brings things back to the original flow of the album. 
In truth, there is a plentiful supply of crackers on 337 , a remarkable spread of quality equals quantity. "Slip Into A Dream" is a transcendent slice of phased beauty, "My Name Is Nobody" is reminiscent of something pulled from the counterculture and given a modern makeover. 

The dense post punk of "Nothing Got In The Way" is inspired, whereas, "It's Your Day" strides along with some intelligent spatial organization of instrumentation. As
337
comes to a close with "Talk About The Weather", the sound of the
Status Quo
sixties classic "Pictures Of Matchstick Men" pops into the brain. In some respects, it displays the scope of influence of Yanni, honing all the collective sounds of youth into a mammoth cross-genre release. 
Tracklist; 
1.Neighborhood Van Gogh    
2.A Big Sunset 
3.Campaign Song    
4.Overly Sentimental    
5.Sometimes You Need To Look Back (When You Look Ahead)    
6.A Conversation With The Sun    
7.Just Play    
8.Slip Into A Daydream    
9.My Name Is Nobody 
10.The Promised Land 
11.Nothing Got In The Way    
12.A Whisper In The Wind    
13.It's Your Day 
14.Talk About The Weather
For more info; 
Bandcamp
Twitter